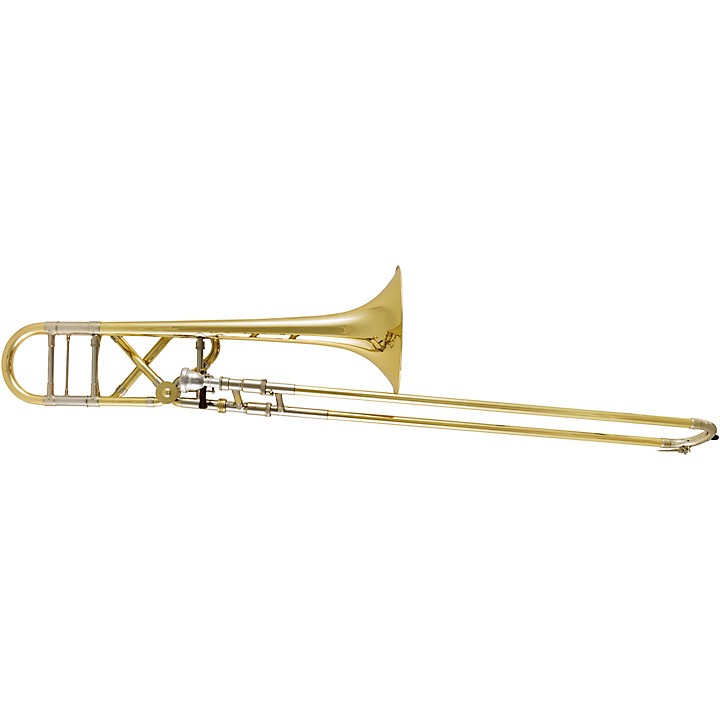 A large bore trombone with an X wrap design to achieve an even feel in and out of the valve range.
The Bach A42XN combines the great features of an Artisan X wrap valve section with the option of a 42 bell. Identical in many ways, the one aspect that stands out is the rate of taper compared to the 47 bell. The 42 bell taper is more gradual, to offer a more breadth or width of sound and features a soldered flat wire bell bead. The X wrap design was developed through extensive research to achieve a balanced resistance and improved airflow throughout the valve section. This result created a truly even feel in and out of the valve range that extends throughout the most expansive registers.

The X wrap also include the standard Artisan rotor with a shorter throw and improved transition between notes. Comfort is greatly improved with the elegant and ergonomic design of a contoured rosewood thumb rest. The 0.547" bore Artisan handslide features a brass cross brace on the inner slide and contoured water key, with newly designed threaded leadpipe receiver plus a nickel crook. The Bach Artisan A42XN model includes three interchangeable brass leadpipes to allow players more options to fit their individual needs.
Specifications
Type: F-Attachment trombone
Tuning: Bb/F
Level: Custom/Artisan
Leadpipe material: Yellow brass
Bell material: Yellow brass
Body material: Yellow brass
Bore diameter: 0.547"
Bell diameter: 8.5"
Slide: Yellow brass
Valve type/const: Artisan standard rotor
Finish: Clear lacquer
Country of origin: United States
Case: Wood frame
Mouthpiece: No
Features
Customizable modular design
Large bore trombone
One-piece hand-hammered bell with soldered flat wire bell bead
Reverse construction main tuning slide
X wrap F-attachment
Standard Artisan rotor with improved action and shorter throw
Standard handslide with nickel crook
Three interchangeable leadpipes: 47, 42, 42O Open