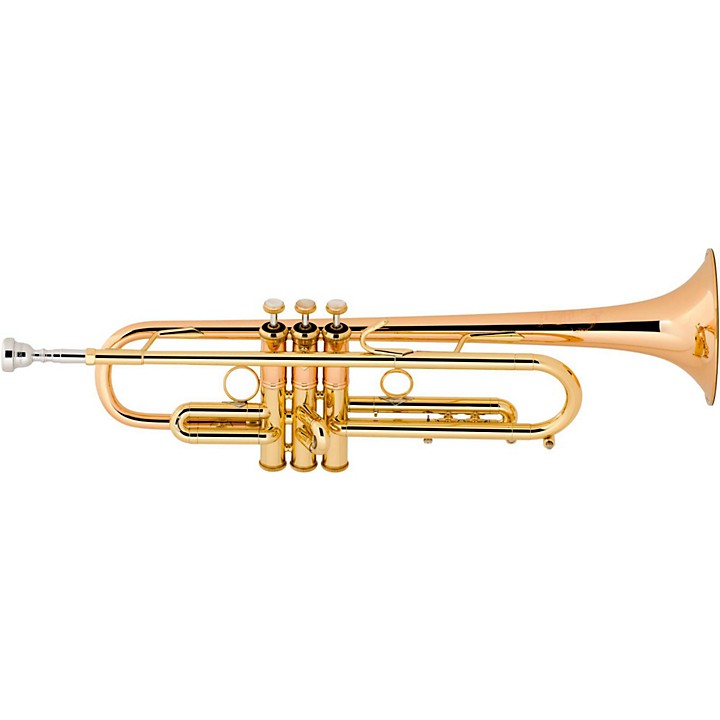 A fresh take on a vintage design for better performance.
The Bach LT1901B Stradivarius Series continues the legacy of the legendary master craftsman Vincent Bach. The LT1901B Series combines new materials and processes with vintage design elements to produce a trumpet with amazing agility, quick response and easy performance in extreme registers with the signature Bach sound.

This trumpet features a .459-inch medium-large bore with a lightweight commercial bronze bell with a French-style bell rim in Vincent Bach's first bell design-the #1,or "T" bell, plus a two-piece brass valve casing with bronze balusters. This commercial design is continued in the lightweight brass outer and lightweight nickel-silver inner slide tubing plus minimal bracing to allow maximum vibration.

Available in lacquer or silver finish, this commercial Strad trumpet includes a case and mouthpiece, along with two main tuning slides-one with a single radius and one with a "D" shape design.
Specifications
Key: Bb
Bore: .459"
Lead pipe: Standard taper
Lead pipe material: Yellow brass
Bell: 5-inch bell with #1 (T-bell) taper and French-style rim
Bell Material: Lightweight bronze
Valves: Monel
1st Valve Slide Adjustment: Fixed ring
3rd Valve Slide Adjustment: Fixed ring
Two-piece brass valve casing with bronze balusters
Lightweight bronze bell with French-style rim
Lightweight brass outer and lightweight nickel-silver inner slide tubing
One single radius and one "D" radius main tuning slide
Forward-facing 2nd-valve slide
Push-button water keys
Case: Deluxe wood shell case
Mouthpiece: Bach 3E
Finish: Lacquer or Silver
Features
ML bore for versatility in application
Minimal bracing for maximum vibration
Signature Back sound
Choose lacquer or silver
Top quality case and mouthpiece included