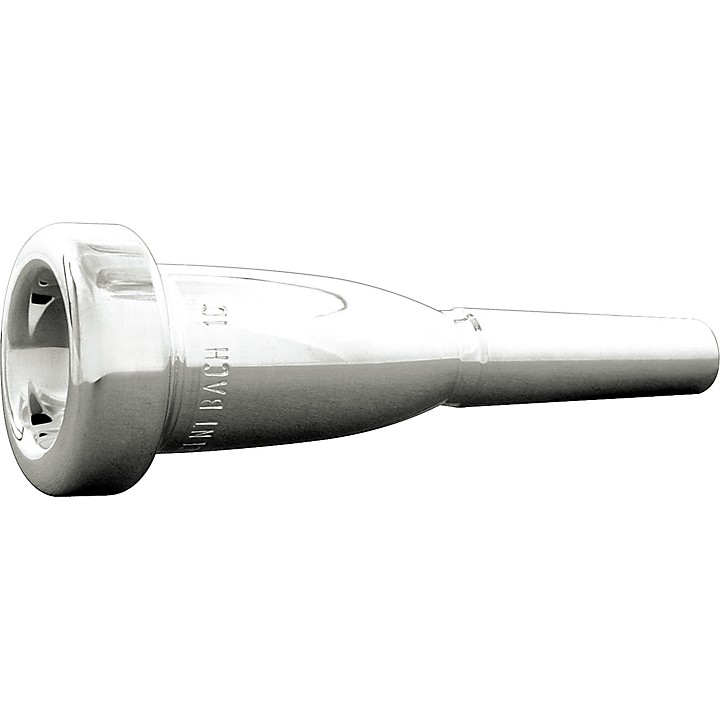 A bold symphonic tone in the palm of your hand.
The Bach Mega Tone Trumpet Mouthpiece offers a revolutionary design for trumpet players seeking a darker, fuller tone. Bach starts with their popular 3C model and doubles the mass, resulting in a mouthpiece with unparalleled power and projection. The Mega Tone's high-mass construction and larger throat reduce resistance for an effortless response across the instrument's range. Its medium cup depth and diameter make it suitable for all musical styles. The silver-plated finish protects the mouthpiece while providing an attractive, polished appearance.


High-Mass Construction Provides Power Without Distortion
With more than double the mass of a standard trumpet mouthpiece, the Mega Tone generates a bold, resonant tone that cuts through the loudest sections without distorting. The additional mass dampens higher overtones for a darker timbre that many symphonic and jazz players prefer. Despite its larger size, the Mega Tone slots easily and dependably centers each pitch.


Generous Throat and Minimal Resistance
The Mega Tone's slightly larger throat opening reduces air resistance for an unrestricted, flexible response. Notes speak quickly and clearly from the lowest to highest registers. The open throat, combined with the mouthpiece's high mass, provides a voluminous sound with plenty of depth and warmth.


Versatile 3C Dimensions
With a medium cup depth and 16.30mm cup diameter, the 3C model is a popular, all-purpose choice for trumpet players. The dimensions provide enough volume and projection for ensemble use while retaining a balanced, centered tone for solo work. The medium rim width offers a comfortable fit for most embouchures.


Premium Silver-Plated Finish
A silver-plated finish protects the Mega Tone's brass construction from tarnish and corrosion while providing an attractive polished surface. The plating is durable and designed to withstand repeated use and handling.

Experience the Mega Tone's bold symphonic tone for yourself. Order today.
WARNING: This product can expose you to chemicals including Lead, which is known to the State of California to cause cancer, and to cause birth defects or other reproductive harm. For more information go to www.P65Warnings.ca.gov.