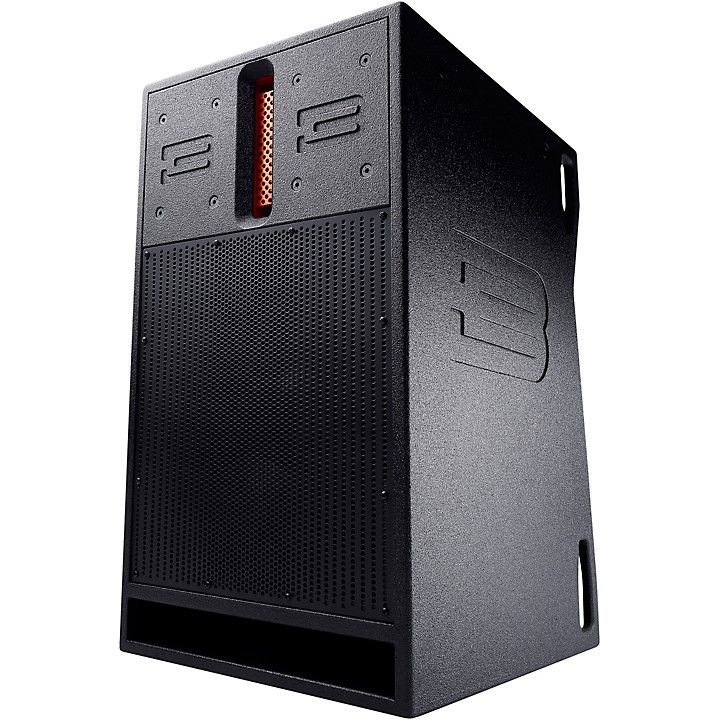 A high-fidelity, high-output portable main.
The BASSBOSS DV12-MK3 is a high-fidelity, long-throw portable main with high-output, ultrawide horizontal coverage and a broad frequency range. Its low-frequency extension and sound is mind blowing in full-range mode, and its satellite preset modes offer an enormous SPL increase when paired with subs. The amplifiers and DSP feature powerful 96kHz processors with pristine sound quality and eight touch-of-a-button onboard presets. The state-of-the-art asymmetrical Class-D amplifier provides a true 3,300 watts of RMS power and features enhanced power allocation between the HF and LF drivers, thus offering exceptional dynamic resolution and detail along with precise control, and low current draw. The fully integrated and comprehensive digital processing ensures smooth response and reliable operation thanks to meticulous filter alignments and multi-stage limiters that protect the drivers from excessive peaks and thermal overload by monitoring real power output over time.
The processing features multiple preset configurations. The first is full-range mode, with response down to 45Hz (–3dB). The DV12-MK3 can be combined with any BASSBOSS subwoofer. Each preset offers different advantages that suit certain applications and preferences. No matter which preset you choose, your BASSBOSS subs and DV12-MK3 tops will always play in harmony. Scalability is another key benefit—one DV12-MK3 can provide enough mid and high output to match an impressive number of LF elements. Control BASSBOSS software provides additional computer-accessible presets, networked remote control and remote DSP update capabilities. Each unit features dual Ethernet ports with a built-in network switch for computer connectivity and cascading networking ability. Plus, IP65 waterproof connectors provide peace-of-mind in unpredictable environments, and the MK3 line offers 90–250VAC global power compatibility for use all over the world.
The DV12-MK3 uses a line array-derived 1.4" throat isophasic wave guide instead of a conventional horn. The result is a combination of very wide and consistent horizontal coverage with a tight vertical pattern that extends high-frequency projection farther than a conventional horn. Its invertible array feature allows perfect summing of two speakers, which provides a significant increase in output and projection without compromising the crystal-clear definition. To further utilize the advantages of the line array waveguides, the DV12-MK3 is designed to stack with the HF lenses vertically aligned. This allows the high-frequency sections of two boxes to sum perfectly, as they would in a line array, while the low-frequency sections sum in a column for improved low-frequency directivity and greatly increased output. The lower frequencies are produced by an extraordinarily robust 12" woofer neodymium magnet for light weight and high efficiency, a 4" voice coil for high power handling and a symmetrical, long-excursion suspension for accurate and extended bass response.
The cabinet is made from premium selected 15 mm Baltic birch. The design incorporates a four-degree down-angle that ensures even distribution of high-frequency energy from front-to-back of a venue when the DV12-MK3 is placed at the appropriate height on a tripod or support pole. Additional features include a 35 mm metal pole socket, eight fly points and six handles. The amplifier is recessed from the back of the cabinet to protect it in transit. A perforated steel grille protects the woofer, and its progressive perforation pattern serves to broaden midrange dispersion. The high-frequency lens and port are left clear of the grille to minimize reflections and airflow noise that could compromise sound quality.
Specifications
Frequency response (±3dB): 45Hz–19kHz
Max SPL (peak): 134dB
Nominal dispersion (H° x V°): 120 x 20
Amplification: 3,300W Class-D amplifier
Processing: High and low pass, equalization, phase alignment and limiting
Enclosure type: Self-powered, bi-amplified, 2-way full-range; direct radiating vented LF section, wave-guide-loaded HF section
Transducer (low frequency): 12" diameter (300 mm) neodymium motor woofer with 4" (100 mm) voice coil
Transducer (high frequency): 1.4" throat neodymium motor compression driver with 3" (76 mm) voice coil on Isophasic wave guide
Cabinet construction: 15 mm multi-ply Finland birch plywood with internal bracing and damping, 8 steel-braced 10 mm fly points and a 35 mm pole socket
Dimensions (HxWxD): 24.5" x 14.5" x 17"
Net weight: 63 lb.
Features
High-fidelity, high-output, long-throw portable main
96kHz processors with pristine sound quality and onboard presets
Class-D amplifier provides a true 3,300 watts of RMS power
IP65 waterproof connectors