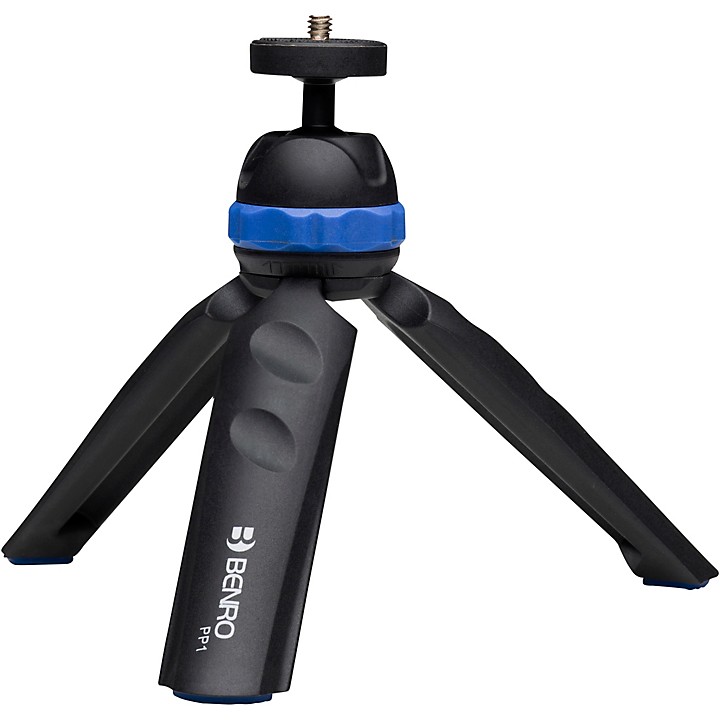 This table top/handgrip combo is steady and ready to go.
Benro's PocketPod can be used as a tabletop tripod as well as a handgrip for smartphones, GoPro or DSLR cameras. Small enough to fit in your pocket, the PocketPod is made of high quality plastic with non-slip rubber feet and an all metal ball. The integrated ball head allows camera positions from horizontal to vertical and can be securely locked in any position with a quick twist of the locking ring. Each leg has two grooves for a more comfortable and secure grip when using as a handgrip.

The PocketPod supports up to 3.3 pounds while weighing only 5.6 ounces (.35 lb). Its built-in ball head has a 1/4""-20 camera screw and a unique design that allows adjustments and locking with a single twist of the locking
Specifications
Head
Camera Mounting Screw: 1/4"-20 Male
General
Load Capacity: 3.3 lb/1.5 kg
Maximum Working Height: 5.3"/13.5 cm
Minimum Working Height: 5.3"/13.5 cm
Dimensions: H: 6.9"/H: 17.4 cm (Folded)
Weight: 5.6 oz./160 g
Legs
Features
The Benro PP1 PocketPod Tabletop Tripod holds any compact camera or other equipment with a 1/4"-20 threaded mount that weighs up to 3.3 lb.
The tripod has a maximum height of 5.3", and when folded up it can also be used as a handheld stabilizer which measures 6.9" long.