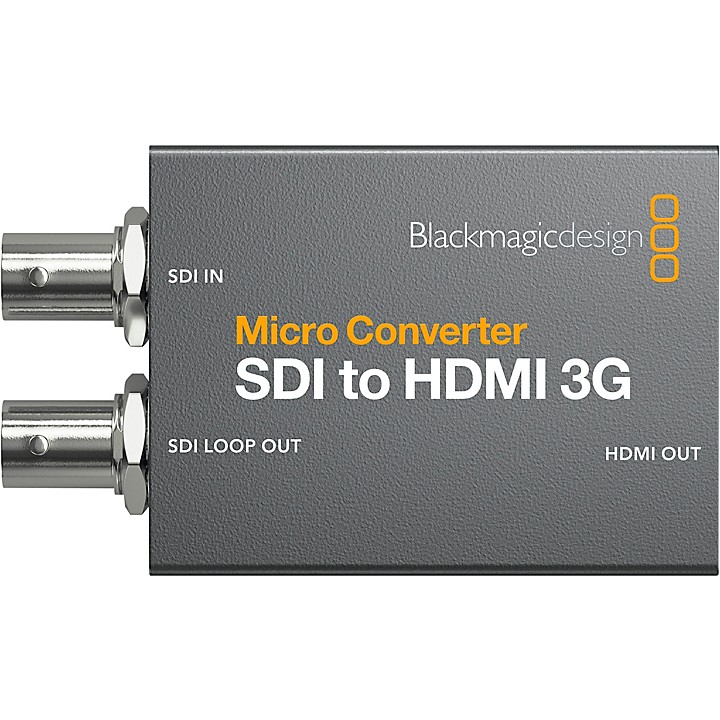 A professional monitoring solution in small, discreet housing.
The Micro Converter SDI to HDMI 3G from Blackmagic Design is a broadcast video converter that allows you to connect between consumer HDMI and professional SDI equipment and is specifically for professional monitoring. It includes a 17-point 3D LUT for color calibrating any monitor, projector or television. You can even output the 3D LUT on the SDI loop output. Plus it supports DCI formats and film rates including 1080p24, 1080p47.95 and 1080p48.
Specifications
SDI Video inputs: 1 x SD, HD or 3G-SDI
SDI Video outputs: 1 x SDI loop out
HDMI Outputs: HDMI Type A out
Multi rate support: Auto detection of SD or HD
Power consumption: 1.6 W
Operational voltage range: 4.4V to 5.25V DC
Length: 3.01 in.
Depth: 1.8 in.
Height: 0.98 in.
Weight: 0.33 lb.
Features
Updates, configurations and power through USB Type‑C
Mac and Windows software upgrade and internal software upgrade via USB
Compatible with Mac 10.14 Mojave, Mac 10.15 Catalina or later and Windows 10 operating systems
Settings control via software utility