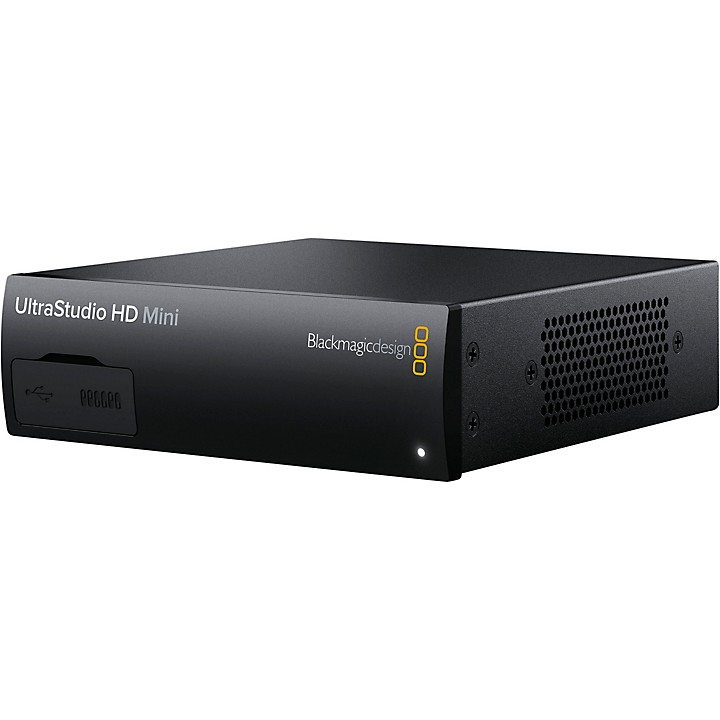 Link broadcast quality connections in a compact unit.
The UltraStudio HD Mini from Blackmagic Design features professional broadcast quality connections that include 3G-SDI, analog YUV and composite NTSC/PAL video inputs, along with a reference input. There are also two 1/4" audio connections for analog audio input that work with balanced and HiFi sources. In addition, UltraStudio HD Mini can remote control professional broadcast decks using the built in RS-422 connection. For output, you get dual link 3G-SDI with fill and key, and an HDMI connection for monitoring video with a big screen television.
Specifications
SDI Video inputs: 1 x 3Gb/s SD/HD switchable
SDI Video outputs: 2 x 3Gb/s SD/HD switchable, supports fill and key
SDI Rates: 270Mb, 1.5G, 3G
HDMI Video outputs 1 x HDMI 1.4b type A connector
Analog video inputs: Y, B-Y, R-Y/NTSC/PAL
Analog audio inputs: 2 x 1/4 in. jack connectors for balanced and unbalanced analog audio
Analog audio outputs: None, embedded audio only
SDI Audio inputs: 16 Channels embedded in SD and HD
SDI Audio outputs: 16 Channels embedded in SD and HD
HDMI Audio outputs: 2 Channels embedded in SD and HD
Timecode connection: None, RP-188 only
Reference input: Tri-Sync or Black Burst
SD Video standards: 525i59.94 NTSC, 625i50 PAL
HD Video standards: 720p50, 720p59.94, 720p60 1080p23.98, 1080p24, 1080p25, 1080p29.97, 1080p30, 1080p50, 1080p59.94, 1080p60 1080PsF23.98, 1080PsF24, 1080PsF25, 1080PsF29.97, 1080PsF30 1080i50, 1080i59.94, 1080i60
2K Video standards: 2K DCI 23.98p, 2K DCI 24p, 2K DCI 25p, 2K DCI 23.98PsF, 2K DCI 24PsF, 2K DCI 25PsF
SDI Compliance: SMPTE 259M, SMPTE 292M, SMPTE 296M, SMPTE 372M and SMPTE 425M A/B
SDI Metadata support: RP 188/SMPTE 12M-2 and closed captioning
Audio sampling: Television rate of 48kHz and 24-bit
SDI Video sampling: 4:2:2/4:4:4
Color space: REC 601, REC 709
HDMI Resolution: Pixel for pixel HD resolution input from connected device
Length: 5.51 in.
Width: 6.69 in.
Height: 1.75 in.
Weight: 1.34 lb.
Features
RS-422 Deck control
Real time 10-bit hardware down conversion on SDI B output when working in HD video formats on playback
Colorspace conversion hardware based real time
Physical installation requires computer with a Thunderbolt 3 USB-C port