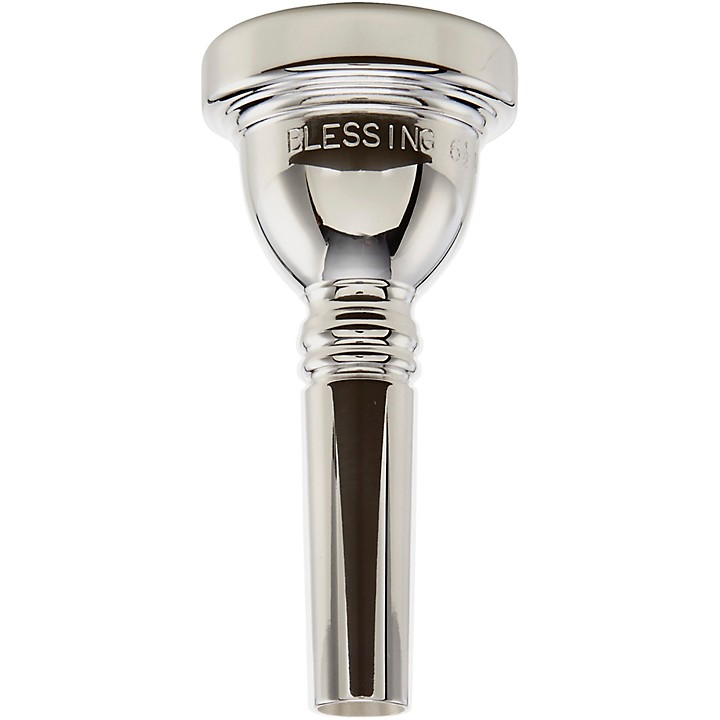 A responsive mouthpiece for developing brass players.
The Blessing 6.5AL Trombone Mouthpiece provides an excellent starter mouthpiece for student trombone, baritone and euphonium players. Featuring a medium deep cup and standard rim, this small shank mouthpiece offers balanced, vibrant tone that suits a variety of playing styles. The silver-plated finish gives an attractive appearance while resisting tarnish. Constructed to high standards by a brand focused on fostering musical growth, the 6.5AL mouthpiece delivers the quality and affordability that educators and students rely upon.


Medium Deep Cup Produces Full, Responsive Tone
With its medium deep cup, the 6.5AL mouthpiece enables you to produce a warm, rich tone that responds easily to your breath and articulation. The cup depth provides enough volume and projection for ensemble playing while remaining controllable for the developing player.


Standard Rim Offers Comfortable Fit
The medium wide rim on this mouthpiece provides a comfortable fit for most players. Its rounded inner edge places minimal stress on your embouchure, allowing you to focus on tone production and technique. The standard rim shape suits a range of playing styles, from crisp articulation to legato phrasing.


High-Quality Materials and Construction
As an affordable mouthpiece from a respected brand, the 6.5AL is constructed to exacting standards from brass and finished in silver plate. Built to last through years of regular use, this mouthpiece provides consistent performance and an attractive appearance. Blessing's dedication to high quality and value makes this an ideal choice for student musicians and music educators on a budget.


Compatible With Standard Lower Brass
With its small shank size, the 6.5AL mouthpiece pairs with most standard tenor trombones, baritones and euphoniums. This versatility and compatibility allows you to use a single, trusted mouthpiece across multiple instruments.

Order the Blessing 6.5AL Trombone Mouthpiece today.