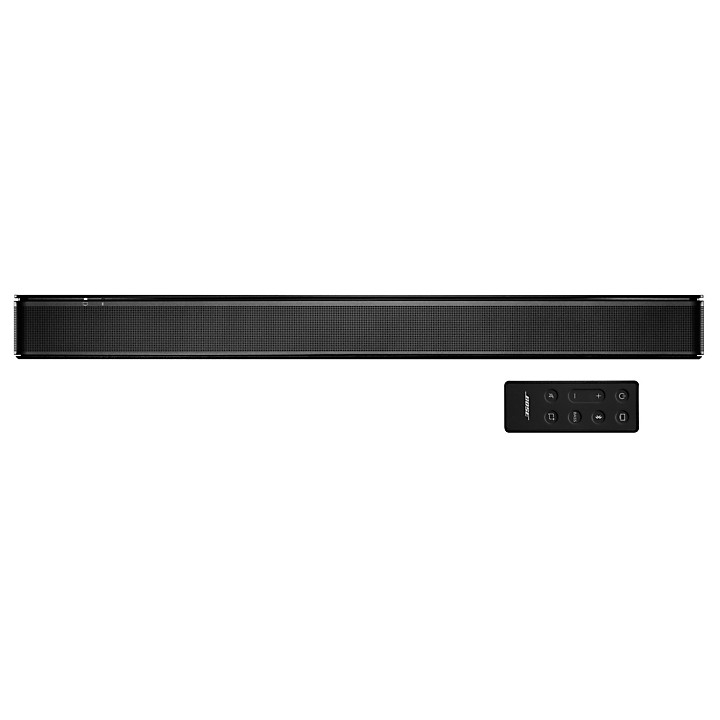 Improve the speech and sound of your TV.
The Bose TV Speaker is a small soundbar that clarifies speech and improves overall TV sound. Inside there are two full-range drivers angled to deliver wide, spatial sound, while the center tweeter specifically focuses on clarifying speech. And built-in Dolby decoding enhances the audio capabilities of your TV Speaker to deliver a more realistic and satisfying listening experience.

Designed with simplicity in mind, a single connection to your TV has you up and running in no time. This connection can be either an optical audio cable (included) or an HDMI cable (sold separately). At just over 2″ tall, this TV Speaker is small enough to fit just about anywhere. Place it in front of your TV or mount it to the wall. Plus, small LED lights on the front turn on and can change color when certain features are enabled or when the volume is adjusted. The Bose TV Speaker also has HDMI-CEC, which allows the TV and soundbar to communicate when connected by an HDMI cable. So when you turn the TV on, the soundbar will automatically turn on too.

You can even continue using your current TV remote to control the volume of the soundbar. However, the Bose TV Speaker also has its own remote. On it, you can pair your Bluetooth device to wirelessly stream your favorite music or podcasts, enable Dialogue Mode to further elevate center vocals, or add a bass boost for some extra depth.

If you're looking for even more bass or want to expand your system, you can add a subwoofer for more theater-quality home theater sound. The Bose TV Speaker requires a wired connection and is compatible with the Bose Bass Module 500 or 700 (Bose Bass Module Connection Cable sold separately).
Features
Delivers overall improved TV sound and clear speech
Dialogue Mode further elevates center vocals
Bluetooth compatibility
Single connection to your TV
Just over 2″ tall
Visual confirmation lights
HDMI-CEC technology
Built-in Dolby decoding
Basic remote control included
Optical audio cable included; HDMI cable sold separately