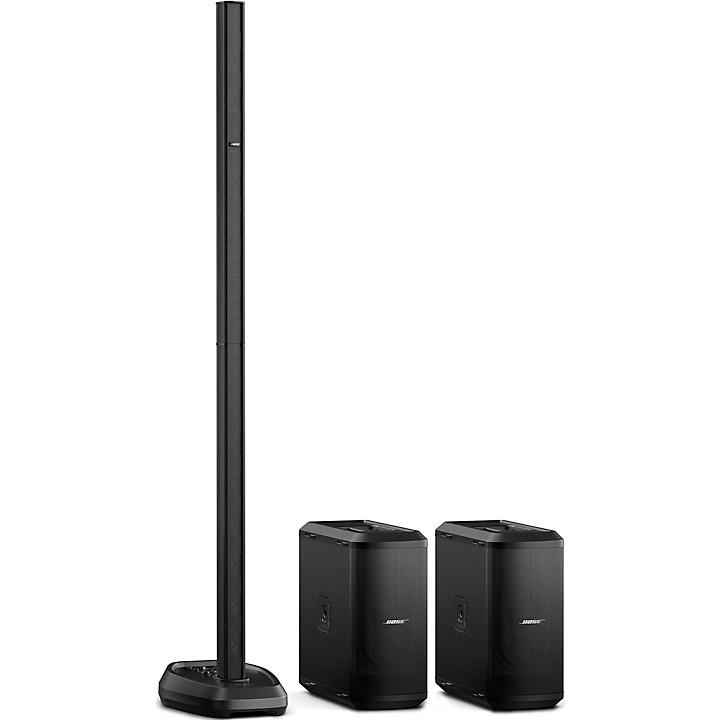 Unrivaled sound in a portable PA system.
The Bose L1 Pro32 portable PA system with Dual Sub1 powered bass modules is an amazing 1-2 combo that really packs a punch, belying its small footprint design. With 32 articulated 2" neodynuym drivers, the Bose L1 Pro32 provides an amazingly high output with an extended low frequency down to 42Hz. This makes it an excellent choice for medium-to-large-sized clubs, bars and coffeeshops, as well as for DJ and karaoke setups. No matter how the audience is setup, the L1 Pro32 offers a wide 180-degree range, so everyone present will enjoy the same experience.
Offering a solid 480 watts in a super portable design, each of the included Bose Sub1 subwoofers produces exceptional low end all the way down to 40Hz. Bose built the Sub1 with a 7"x13" high-excursion RaceTrack driver which gives you a performance similar to a traditional 12" woofer, but in a size that isn't a pain to lug around. No matter what kind of event you're using this setup for, from weddings to live bands, the L1 Pro32 portable PA with dual Sub1 powered bass modules package is sure to elevate your sound game in ways you'll have to hear to believe.
Proprietary SubMatch connectivity means you can connect your Sub1s to the L1 Pro32 with a single cable that delivers both power and audio. Plus, you can stack the units and configure them for a traditional coverage pattern or unleash Cardioid Mode, which focuses bass out front and off the stage.
Mixer onboard … and on your phone

Each L1 Pro system features a built-in mixer, so you can connect various instruments, microphones, and other sources easily. You get two combo XLR-1/4" phantom-powered inputs, 1/4" and 1/8" (3.5 mm) AUX inputs, plus Bluetooth streaming capability. Illuminated rotary encoders give you instant access to volume, tone and reverb settings per channel. Select between optimized system EQ presets for live music, recorded music and more. And bring in even more instruments and other audio sources via dedicated ToneMatch port, which allows for seamless connection to Bose T4S or T8S ToneMatch mixers.
And with the intuitive L1 Mix app, you get complete wireless mixer control from your smartphone too…
Intuitive and instant wireless control

With the L1 Mix app, you can adjust mixer settings instantly from your phone or even walk the room, hear how the mix sounds, and fine-tune as you go. Change volume and tone settings in the app and watch the LED encoder on your L1 Pro move to match—the mixer and app are always in sync, in real time. Plus, you have access to the entire ToneMatch library of custom EQ presets. With the L1 Mix app, you get the connectivity that empowers your performance, giving you greater flexibility for on-the-fly tweaks via controls that are intuitive and instant.
All for that moment

Premium sound on stage. Practical portability everywhere else. With an L1 Pro32, you can get from parking to performing with ease and from setup to setlist in minutes. For DJs, singer-songwriters, bands—and your audience—the L1 Pro32 offers a truly superior experience—the power to sound your best and simply perform.
Sub1 Powered Bass Module

Sub1 is the more compact subwoofer option for the Bose L1 Pro32 system, combining seamlessly via proprietary SubMatch connectivity to form a modular line array system that's easy to pack, carryand set up. This single-cable connection makes setup so much easier—it allows the system's crossover and EQ to automatically calibrate for optimal sound, and—because power and digital audio are passed through the SubMatch cable—you only need a single power outlet. Just plug in your L1 Pro32 and you're ready to go.
Specifications
Frequency Response (+/- 3dB)Max SPLWattage
Sub: 480
Array: 480
Total: 960
L1 Pro32 Portable PA
Dimensions
Width: 13.58" (34.5 cm)
Height: 84.06" (213.5 cm)
Depth: 21.65" (55 cm)
Weight
28.78 lb. (13.05 kg)
Sub1 Powered Bass Module

Dimensions
Width: 9.84" (25 cm)
Height: 20.87" (53 cm)
Depth: 20.87" (53 cm)
Weight
52.15 lb. (23.65 kg)
Included Items
L1 Pro32 mid-high arrays and power stand
2 Sub1 powered bass module
SubMatch cable
Carry bags for arrays and power stand
Slip covers for Sub1
AC power cord
Features
Provide a truly superior audio experience with the most advanced L1 portable line array ever, ideal for medium-to-large-sized venues and events like weddings, clubs and festivals
Deliver premium full-range sound with consistent tonal balance for singer-songwriters, mobile DJs, bands and more
Maintain supreme vocal and instrument clarity with a straight-shape extended-frequency line array featuring 32 articulated 2" neodymium drivers and wide 180-degree horizontal coverage
Bring bass without the bulk via two Bose Sub1 modular subwoofers, featuring RaceTrack drivers that take up less space, freeing up room in your vehicle and on the stage
Go from vehicle to venue easily with a modular high-output system that's lighter and easier to pack, carry and set up
Select between optimized system EQ presets for live music, recorded music and more
Connect various audio sources easily via built-in mixer with two combo XLR-1/4" phantom-powered inputs, 1/4" and 1/8" (3.5 mm) AUX input, plus Bluetooth streaming—and access system EQ and ToneMatch presets, volume, tone and reverb via illuminated controls
Add even more instruments and other audio sources via dedicated ToneMatch port; one cable provides both power and digital audio between system and a Bose T4S or T8S mixer (sold separately)
Take wireless control with the L1 Mix app on your smartphone to adjust settings instantly from your phone, roam the room and fine-tune and access the ToneMatch library of custom EQ presets
Stream high-quality Bluetooth audio from compatible devices