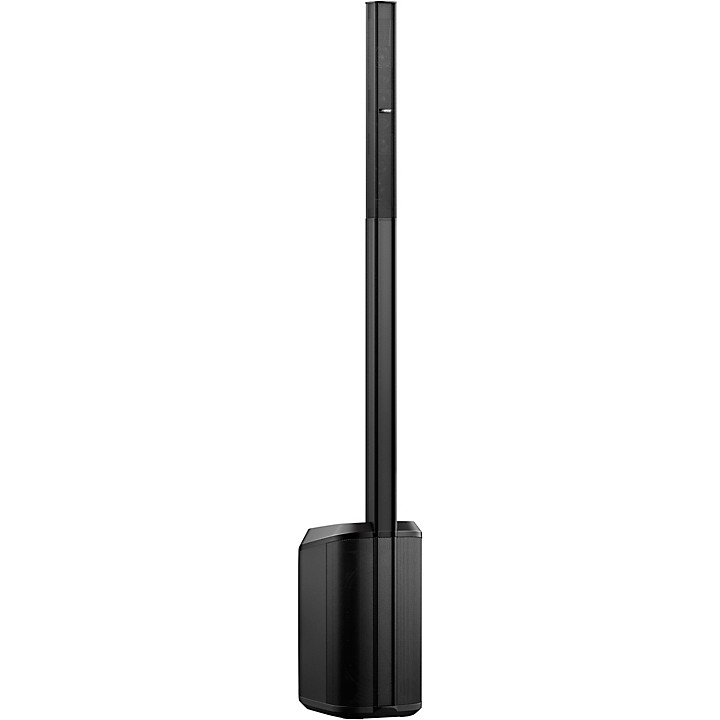 Premium portable sound for intimate gigs and beyond.
The Bose L1 Pro8 redefines what a portable PA system can be. This revolutionary all-in-one system features Bose's innovative line array technology with eight 2" neodymium drivers to deliver 180-degrees of clear, balanced sound coverage for small- to mid-sized venues. The integrated 7" by 13" subwoofer utilizes Bose's unique RaceTrack driver design to produce deep, rich bass you'd expect from a much larger woofer, all while keeping the overall footprint slim and highly portable.


Eight-Driver Line Array Distributes Sound Evenly
The L1 Pro8's eight-driver line array is a technological marvel, articulating to distribute sound evenly throughout your space so your audience enjoys the same stellar experience no matter where they're seated or standing. The 180-degree sound coverage means you won't need to set up additional monitors, letting you focus on your performance.


RaceTrack Subwoofer Delivers Impactful Low End
While the line array handles the mids and highs, the L1 Pro8's integrated 7" by 13" subwoofer uses Bose's RaceTrack driver design to produce bass you can feel. The elongated cone provides more surface area than a traditional circular woofer, enabling deep, tight bass response from an enclosure small enough to fit under one arm. The optimized center of gravity also makes the L1 Pro8 easy to transport and position, freeing up your hands to carry gear.


Built-in Mixer with Wireless Control
The L1 Pro8 features an intuitive built-in 3-channel mixer, complete with combo XLR and 1/4" inputs, AUX inputs and ToneMatch ports to connect additional Bose mixers. Optimized ToneMatch presets provide studio-quality sound for vocals and acoustic guitars right out of the box. Illuminated knobs give you easy access to volume, EQ, reverb and other settings for each channel. You can also control the L1 Pro8 mixer settings wirelessly using the free L1 Mix app on your iOS or Android device.


Ultra-Portable Design Sets Up in Minutes
Weighing just 35 pounds, the L1 Pro8 is Bose's most portable PA yet. It breaks down into three lightweight components that store in the included travel bag so you can load in and set up in minutes. The two-position design also lets you optimize coverage for smaller or larger rooms. For intimate gigs on the go, the L1 Pro8 delivers premium Bose sound with unmatched portability.

CTA: Order the Bose L1 Pro8 PA System today.
Specifications
Frequency Response (+/- 3dB)Max SPLWattage
Sub: 240
Array: 60
Total: 300
Dimensions
Width: 12.52" (31.8 cm)
Height: 78.94" (200.5 cm)
Depth: 17.32" (44 cm)
WeightIn the box
L1 Pro8 mid-high array, extension and power stand
Carry bag for array
AC power cord
Features
Get in, set up and simply perform with the most portable L1 Pro system, ideal for small venues like coffee shops and cafes
Deliver premium full-range sound with consistent tonal balance for singer-songwriters, mobile DJs and more
Maintain supreme vocal and instrument clarity with a C-shape extended-frequency line array featuring eight articulated 2" neodymium drivers and wide 180-degree horizontal coverage
Bring more bass with less bulk with an integrated subwoofer featuring a 7" x 13" high-excursion RaceTrack driver; performance that rivals a conventional 12" woofer with a smaller footprint
Go from vehicle to venue in one trip with a modular three-piece system that's easier to pack, carry and set up
Select between optimized system EQ presets for live music, recorded music and more
Connect various audio sources easily via built-in mixer with two combo XLR-1/4" phantom-powered inputs, 1/4" and 1/8" (3.5 mm) AUX input, plus Bluetooth streaming—and access system EQ and ToneMatch presets, volume, tone and reverb via illuminated controls
Add in even more instruments and other audio sources via dedicated ToneMatch port; one cable provides both power and digital audio between the system and a Bose T4S or T8S mixer (sold separately)
Take wireless control with the L1 Mix app on your smartphone to adjust settings instantly from your phone, roam the room and fine-tune, and access the ToneMatch library of custom EQ presets
Stream high-quality Bluetooth audio from compatible devices