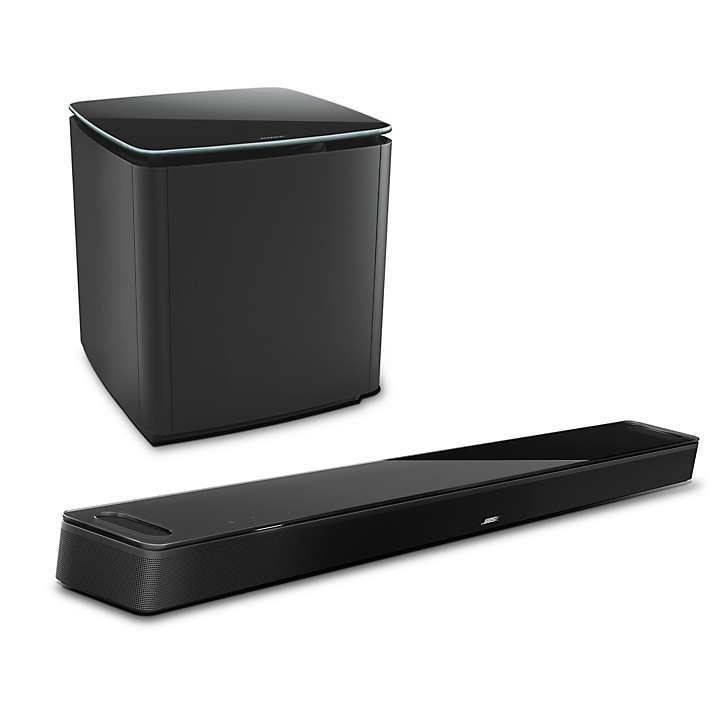 Experience total immersion with this soundbar and base module bundle.
This kit includes the Bose Smart Soundbar 900 and the Bass Module 700 for a sensational sound experience. The soundbar delivers high-quality sound while the bass module further immerses you in it.

Bose Smart Soundbar 900
For a theater-like sound immersion experience, look no further than Bose's Smart Soundbar 900. This soundbar features Dolby Atmos, adding a layer of realism no other soundbar can duplicate. Exclusive Bose technologies elevate all content by separating instruments, dialogue, and effects, and placing them in discrete parts of a room for immersion like you've never felt. Plus, a seven-speaker arrangement is precisely positioned in the cabinet, including two new transducers that help deliver sound you'd expect from in-ceiling speakers. This works in tandem with proprietary PhaseGuide technology to beam multi-directional sound to distinct areas in your room, giving you the feeling that what you hear is coming from places outside your speaker.

Bose Bass Module 700
The difference between hearing bass and feeling thunder starts the moment the Bose Bass Module 700 is added to your soundbar. Full-on surround sound with booming notes helps to further immerse you in music, movies or TV. QuietPort technology delivers clean, deep bass in a compact form. It connects wirelessly for easier placement and features an elegant design with a tempered glass top.
Features
Includes
Bose Smart Soundbar 900
Bose Bass Module 700