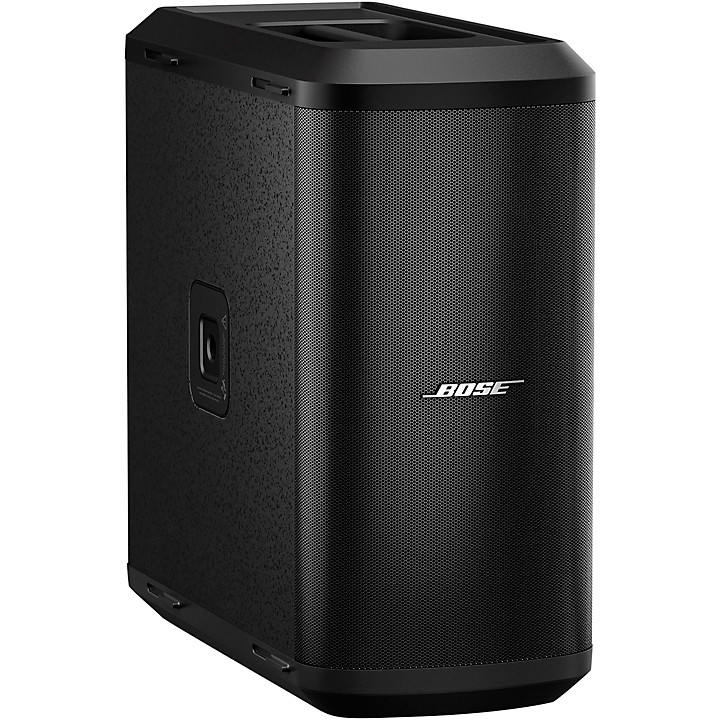 Bass without the bulk.
Offering a solid 480 watts in a super portable design, the Bose Sub1 subwoofer is versatile enough to work with almost any portable PA you pair it with, producing exceptional low end all the way down to 40Hz. Bose built the Sub1 with a 7"×13" high-excursion RaceTrack driver which gives you a performance similar to a traditional 12" woofer but in a size that isn't a pain to lug around. With its smaller footprint, the super-efficient Sub1 subwoofer was built to take your performance to the next level without taking up space.

Give your songs full impact
In fact, this visionary design offers a surprising size-to-performance ratio.The RaceTrack driver's unique shape allows the physical enclosure to be slimmer without compromising sound. This also frees up room in your vehicle and on the stage, and makes every carry in between — home to car, vehicle to venue — much easier.

Part of a full system
Sub1 is the more compact subwoofer option for the Bose L1 Pro32 system, combining seamlessly via proprietary SubMatch connectivity to form a modular line array system that's easy to pack, carry, and set up. This single-cable connection makes setup so much easier — it allows the system's crossover and EQ to automatically calibrate for optimal sound, and — because power and digital audio are passed through the SubMatch cable — you only need a single power outlet. Just plug in your L1 Pro32 and you're ready to go.

The peak of portable PA
With the supreme clarity and output of a 32-driver articulated line array, the L1 Pro32 system fills medium-to-large-sized venues and events like weddings and clubs with full 180-degree sound coverage. A built-in multi-channel mixer offers EQ, reverb, and phantom power, plus Bluetooth® streaming and access to the full library of ToneMatch presets — and the intuitive L1 Mix app places wireless control in your hands.

Focus the bass where you want it
Stacking multiple Sub1 subwoofers gets you even more bass — and allows you to unleash Cardioid Mode for directional bass performance. Cardioid Mode is ideal for outdoor events and keeping the stage and microphones free of low-frequency feedback. Instead of bass invading your space on stage or upsetting the neighbors, Cardioid Mode focuses bass out front where you want it.

All for that moment
Big basson stage. Practical portability everywhere else. Get from parking to performing with ease and from setup to setlist in minutes. With a Sub1, you get a subwoofer that goes virtually anywhere and effortlesslyfills out your sound.
Specifications
Dimensions
Width: 9.84 in. (25.00 cm)
Height: 20.87 in. (53.00 cm)
Depth: 20.87 in. (53.00 cm)
Weight Frequency Response (+/- 3dB) Max SPL WattageIn the box
Sub1 powered bass module
Slip cover
AC power cord
Features
Add powerful bass to your portable PA system with low-end range down to 40Hz
Go from vehicle to venue easily with a slim design featuring a unique 7"×13" high-excursion RaceTrack driver; performance that rivals a conventional 12" woofer with a smaller footprint
Stack multiple Sub1 subwoofers for even more bass or unleashCardioid Mode for focused, directional performance that steers the bass out front and decreases feedback
Combine seamlessly with Bose L1 Pro32 portable line array via proprietary SubMatch connectivity, which delivers both power and audio over a single cable
Pair with other powered loudspeakers via line input and output with selectable crossover modes, plus integrated threaded pole mount for use with Bose S1 Pro PA and more