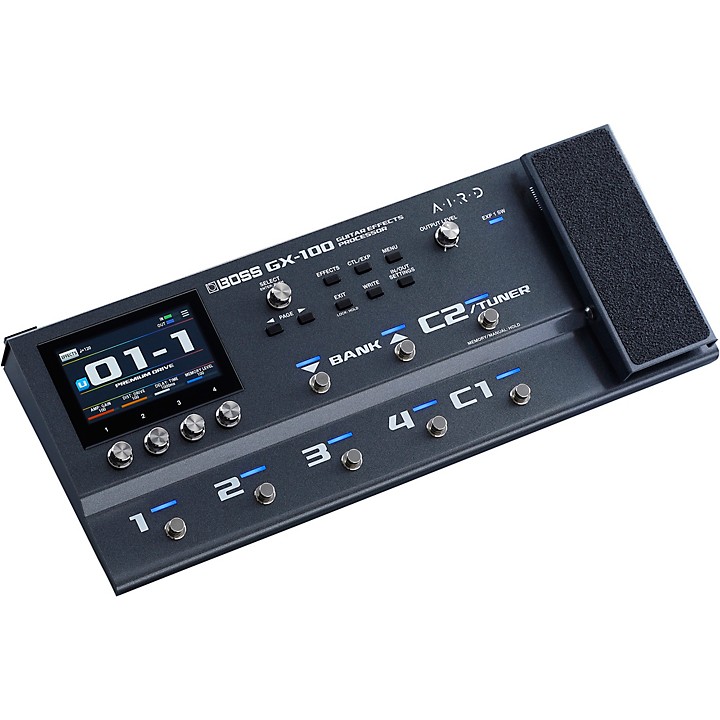 Premium BOSS tone technologies and streamlined design for endless sound creation.
The BOSS GX-100 guitar effects processor fuses advanced BOSS tone technologies with sleek, ultramodern hardware design for top-shelf performance in any setting. Explore 23 AIRD amplifiers and over 150 effects derived from the flagship GT-1000, and craft great sounds in seconds with the intuitive color touch display. Up to 15 simultaneous effects blocks deliver endless tone possibilities, coupled with deep real-time command via onboard footswitches, an expression pedal and external control support.

Authentic, tailored sound
The GX-100 features AIRD technology, backed by the BOSS-refined Tube Logic approach. The AIRD Output Select lets you customize your sound with precision for any destination, whether it's an amp input, FRFR monitor or house PA. It also includes a wide selection of onboard speaker cabs, plus slots for importing your own speaker IRs via USB.

Effects library and preset memories
With over 150 effects, numerous overdrives and distortions, plus BOSS classics like Slow Gear, Octave and more, you can endlessly create and customize new sounds. The GX-100 also includes a diverse range of mod effects, delays and reverbs, plus send/return jacks so you can integrate your favorite stomps or effects loops. You can also dial into one of the 100 preset memories to start playing right away, edit them for your needs or build your own. Get creative with 15 dedicated block types—including two amp blocks—and chain effects in series and parallel to discover all kinds of sonic variations. With 200 user memories available, you can store enough onboard sounds for any song or style.

Player-forward design
Sound creation and on-the-gig editing are simpler than ever with the GX-100—the color touch display offers intuitive control of patch and effects selection, parameter tweaks, signal chain adjustments and much more. The GX-100 also includes deep real-time control with eight custom footswitches and an expression pedal with toe switch. They come configured for patch/bank selection and patch-specific control, but you can reassign them to meet your needs. Switching into Manual mode provides direct stompbox-like control, and you can go even further with external control via footswitches, an expression pedal or MIDI. There's also a jack to remotely switch channels on your amp with memory selection or an assigned footswitch.
Specifications
Sampling frequency: 48kHz
AD Conversion: 24-bit and AF method
DA Conversion: 24-bit
Processing: 32-bit floating point
Memories: 200 user, 100 preset
Phrase loop: 38 sec. Mono, 19 sec. Stereo
Tuner internal detection: +/-0.1 cent
Nominal input level: -10dBu input, -10dBu return
Max input level: +18dBu input, +8dBu return
Input impedance: 1 mohm input, 1 mohm return
Nominal output level: -10 dBu Output L/Mono/R, 44 ohm phones, 1 kohm send
Recommended load impedance: 10 kohm or greater output L/Mono/R, 44 ohm or greater phones, 10 kohm or greater send
Dimensions (WxDxH): 18-1/8" x 7-5/8" x 2-7/8"
Maximum height: 3-3/4"
Weight: 7.12 lb.
Features
Powerful, easy-to-use amp/effects processor for guitar and bass
Authentic tube amplifier tone and touch response with AIRD technology
23 amplifier types and over 150 BOSS effects
Ultraflexible amp/effect routing with 15 assignable blocks
Wide selection of onboard speaker types and support for loading WAV speaker IRs
Streamlined modern design with intuitive color touch display and rugged metal chassis
Unlimited effects control with freely assignable onboard footswitches and expression pedal with toe switch
Connect up to two footswitches or an expression pedal for expanded control
Send/return loop for external pedals or four-cable method
Control jack for remote channel switching on your amplifier
MIDI I/O jacks and multi-channel computer recording via USB
24-bit AD/DA, 32-bit floating-point processing, and 48kHz sampling rate