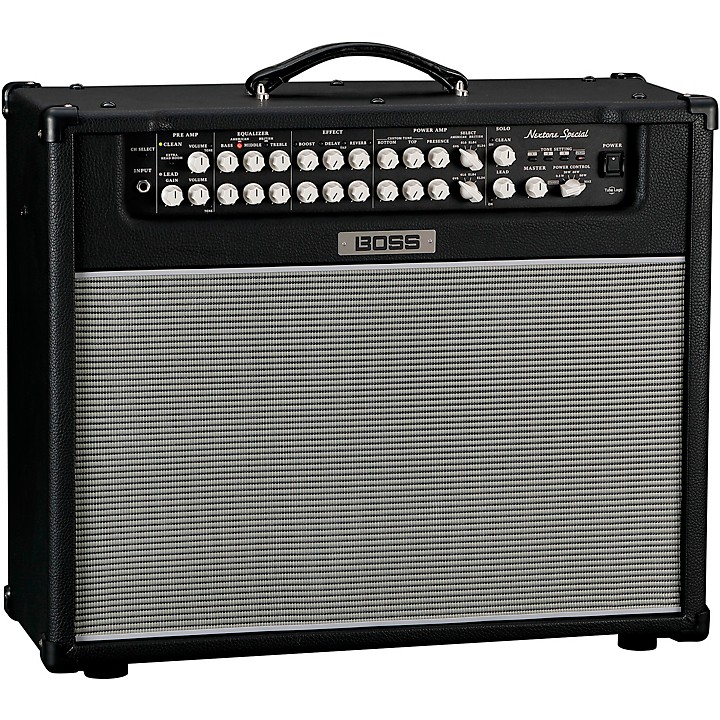 "Blue bell tone", enhanced features and more power in this combo amp.
Fueled by BOSS's acclaimed Tube Logic approach, the Nextone Special delivers premium sound, feel, and tonal versatility for stage players who demand the best. Fusing forward-thinking innovation with boutique design features and detail, this professional stage amplifier offers deep sound-shaping controls, enhanced reactive drive power amp circuitry with selectable voicing, a custom Waza speaker with vintage "blue bell" tone, and much more. The Nextone Special provides a refined playing experience that stands alongside the finest tube amplifiers, enhanced with key modern advantages like variable power control, consistent sound, and maintenance-free operation.

Hand-Crafted Tube Sound and Feel

The Nextone Special represents the latest generation of BOSS's ongoing Tube Logic development, giving experienced players a premium-grade amplifier realized through years of expertise, careful component selection, and detailed craftsmanship. Tube Logic reproduces the complex interactive behaviors of classic tube designs in every way, providing authentic sound and feel with punchy attack, natural compression, dynamic speaker response, and big onstage presence. The amp also debuts BOSS's custom Waza B12W speaker, which combines the tone of sought-after "blue bell" speakers from the 1960s with modern power handling capacity.

Next-Generation Power Amp

A standout of the Nextone series is its innovative analog power amp design and selectable EL84, EL34, 6V6, and 6L6 class AB circuits. BOSS further expands the power amp features with the Nextone Special, taking things to an all-new level. Enhanced reactive drive circuitry refines the all-important power section/speaker interaction, putting even more expressive feel under your fingers. Onboard voicing controls let you fine-tune the response to your playing style, with even deeper tweaks available via the Nextone Editor. And with the variable power control, you can always ride in the "sweet spot," whether performing in small venues or on the biggest stages.

Unmatched Tonal Versatility

With two independent, fully featured channels, the Nextone Special gives you unprecedented control over your personal sound. Choose between clean and lead voicings, select British or American tone stacks, access multiple onboard effects, and shape the power section with dedicated knobs. There's an Extra Headroom switch for maximum punch at full power, plus the ability to set switchable solo levels for clean and lead sounds. Three Tone Setting memories are also available, letting you save favorite setups for instant recall.

Perfect Sound Every Time You Power Up

While everyone loves the sound and vibe of classic tube guitar amps, they're heavy, fragile, and require regular maintenance to keep them running at peak performance. With the Nextone Special, you get all the benefits of authentic tube tone without the downsides. The weight is reduced over a typical tube combo, making transport and set up easier. And with no tubes to worry about, you'll enjoy consistent sound and ultra-reliable performance night after night.

Creative Connectivity

The Nextone Special's rear panel is filled with connectivity for modern performance and music production. External control is supported via the GA-FC foot controller, standard BOSS footswitches, and MIDI. There's also an effects loop, plus XLR and 1/4-inch line outputs for sending a direct feed to a PA, complete with three selectable mic'd cab IR voicings with Air Feel. A phones/recording output is available for silent practice and tracking sessions, along with USB for direct recording and communication with the Nextone Editor software. External speaker jacks are included as well, letting you connect up to two 16-ohm 4x12 cabs for even bigger tones.
Features
Professional performance amplifier with 80 watts of power
Authentic tube amp sound and feel, realized with BOSS's continually evolving Tube Logic approach
Enhanced reactive drive power amp circuitry and carefully selected components throughout
Custom Waza B12W 12-inch speaker delivers classic "blue bell" tone with rich lows, mellow mids, and clear highs
Four analog Class AB power amp circuits, selectable for each channel: 6V6, 6L6, EL84, and EL34
Independent Clean and Lead channels with selectable American and British EQs, built-in effects, and advanced power amp voicing controls
Five-way power control for cranked-up sound and dynamic response at any volume
Extra Headroom switch for added punch when the power control is wide open
Switchable Solo function with level control
Onboard boost, delay, tremolo, and reverb effects, plus loop for patching in external effects
Three Tone Setting memories for storing and recalling customized amp and effect settings
External speaker jacks: one 8 ohm and two 16 ohm
Line, USB, and phones/recording outputs with cab IR
Support for direct recording and re-amping via USB
Character Shape for each tube type available in the Nextone Editor, enabling deep tone optimization at the power amplifier's core
External control support via GA-FC foot controller, footswitches, and MIDI