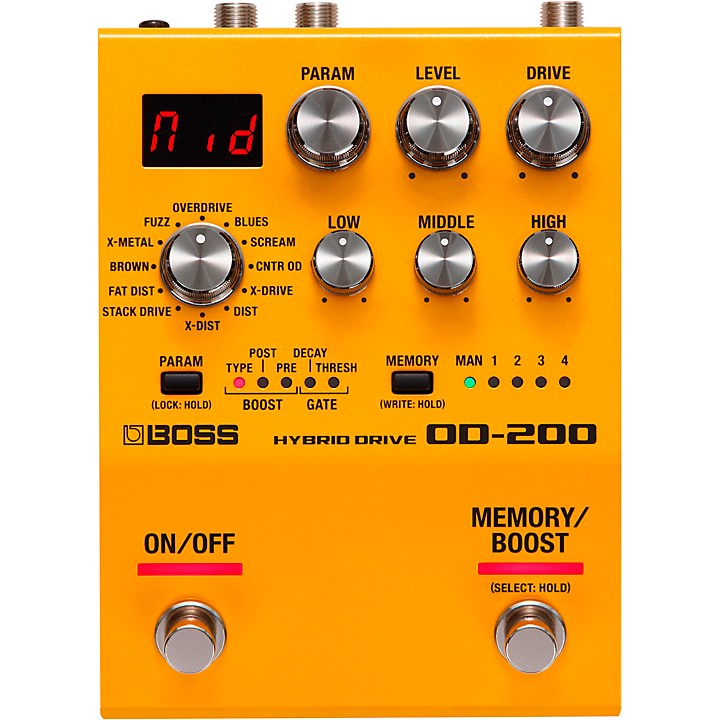 A sophisticated pedal that makes it easy to get the tone you want.
With the 200 series, BOSS introduces a generation of pedals that pack advanced sound and versatility into a streamlined size that saves space on your board. Grab-and-go controls and multi-function switches make operation easy and intuitive, while onboard memories allow you to store multiple setups for instant recall. All 200 series pedals feature premium audio quality with 32-bit AD/DA, 32-bit internal processing, and 96kHz sampling rate, as well as support for additional control via external switches, an expression pedal or MIDI.

The OD-200 Hybrid Drive brings next-level sound, feel and flexibility to overdrive and distortion, combining decades of BOSS tone expertise with innovative technologies. This dream pedal is capable of producing any drive tone you can imagine, offering 12 unique modes, hybrid analog/digital circuitry, three-band EQ, and powerful pre- and post-boosts for ultra-detailed gain shaping. There's even an advanced gate circuit onboard, ideal for both eliminating noise and adding tightness and aggression to high-gain drive tones.
Specifications
32-bit AD/DA
32-bit internal processing
96kHz sampling rate
12 unique modes
Hybrid analog/digital circuitry
Three-band EQ
Pre- and post- boosts