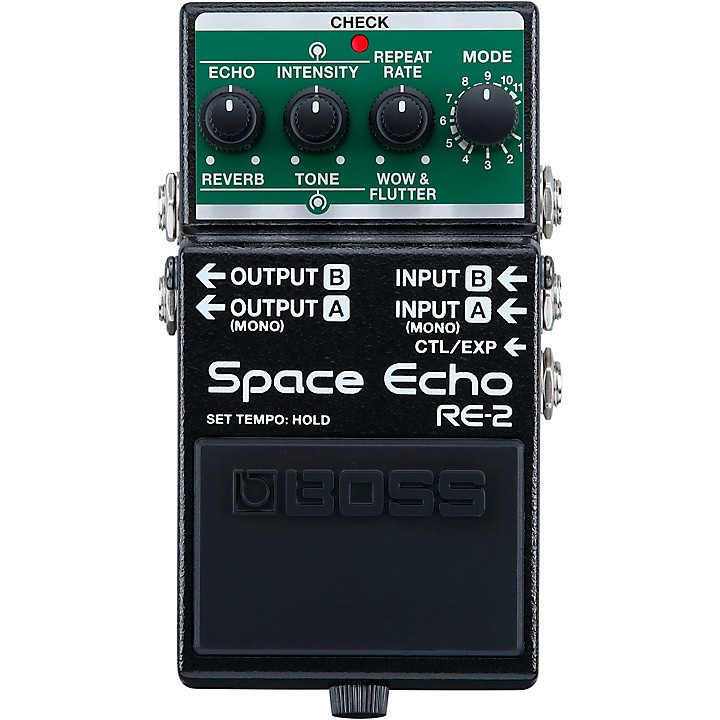 The iconic Roland RE-201 Space Echo sound in a compact pedal design.
The BOSS RE-2 Space Echo effects pedal delivers the authentic sound and behavior of the iconic Roland RE-201 Space Echo in a pedalboard-friendly compact design. Introduced in 1974, and produced for over 14 years, the Roland RE-201 Space Echo was known for its distinctive rhythmic echo sounds, warm character and highly playable sonic quirks. Now, with the RE-2, you can bring that inspiring sound to your pedalboard with all the features that influenced the sound of the original, including the tape path, record/playback mechanism, motor variations, preamp coloration, spring reverb character and more, plus a new slate of algorithms to explore.
The 11-position mode selector lets you dial in different virtual tape heads with or without spring reverb, and you can balance the echo/reverb blend with independent level knobs. Every behavior is accurately replicated, such as the gradual pitch change that occurs with Repeat Rate tweaks and the runaway feedback that happens when maxing the Intensity knob. And with the expressive Wow & Flutter control, you can conjure all the natural modulation characteristics that are essential to the Space Echo sound.
Take your sound further with versatile features for today's music. Delay time has been doubled and tap tempo control is supported, and there's a Twist function for creating evocative special effects as you perform. For the dry sound, you can choose between the warm and fat RE-201 preamp tone, or a clean signal with zero processing. Full stereo I/O is available, and it's possible to mute the dry signal for parallel effect setups and studio use. The RE-2 Space Echo also supports expanded control via external footswitches or an expression pedal, including continuous pedal control of multiple panel functions at once.
Features
Authentic sound and behavior of the legendary Roland RE-201 Space Echo in a compact pedal
Classic multi-head tape echo sound with expanded delay time
Original three-head configuration and 11 different sound combinations
Vintage RE-201 spring reverb sound with modern stereo operation
Wow & Flutter control for introducing varying levels of natural tape modulation
Twist effect with footswitch control
Select between the unprocessed analog dry signal or the modeled sound of the original Space Echo preamp
Tap tempo and carryover functions
True stereo input and output
Expandable control via external footswitches or an expression pedal
BOSS five-year warranty