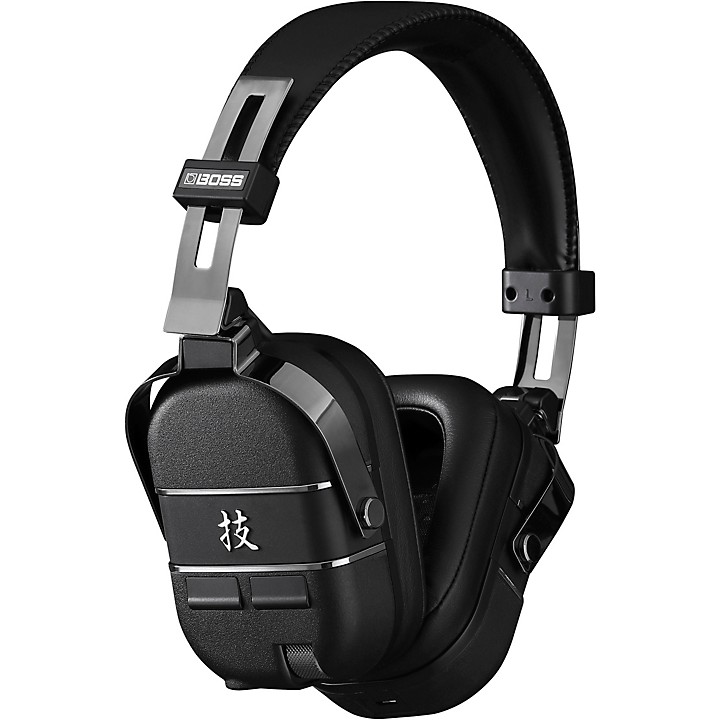 Practice amp with immersive sound for bassists.
Powered by breakthrough BOSS spatial technology, the Waza-Air Bass amp brings the revolutionary Waza-Air experience to all bass guitarists. This inspiring system creates an incredibly natural and immersive environment for playing with headphones, using a gyro sensor that puts you in moving 3D space with your instrument. Choose from five expressive amplifier types and over 30 effects optimized for bass. Then practice solo, groove with the onboard acoustic drum patterns and metronome, or jam with music streamed from your smartphone. And thanks to all-wireless connectivity, set up is quick and hassle-free, with no cables to get in your way.

Practicing bass at home through an amp can be problematic because low frequencies can travel through walls and disturb others. Using headphones is often a necessary solution, but the sound lacks the depth of the in-room experience. Waza-Air Bass changes that, restoring the natural dimension, resonance and "moving air" feel that's lost with traditional phones. An integrated gyro sensor tracks your head movements as you play, driving sophisticated 3D algorithms that provide spatial realism that must be heard to be believed. The Waza-Air Bass also comes with loads of great-sounding amps and effects, with full customization and ready-to-play presets available via the companion BOSS Tone Studio app. Five different bass amp types provide everything from clean and punchy modern sounds to vintage and driven tube-style voicings. There's also a massive selection of bass-tuned effects to choose from, including staples like compressor, overdrive, EQ and T-wah, rich modulation and ambience effects, and specialty sounds such as octave, bass synth, ring mod and more.

All audio connectivity with Waza-Air Bass is 100% wireless for a hassle-free experience. With the ability to move and play in complete freedom, you'll never get tangled up or pull off your headphones by stepping on a cable. Auto standby and wake functions conserve battery life between playing sessions, minimizing the need to plug in and recharge. Equipped with large, custom-designed 50 mm drivers, Waza-Air Bass provides rich, full sound for both bass playing and music listening. The conforming earpads and wide headband are comfortable enough for extended playing sessions, while the rugged build ensures lasting durability for everyday practice and jamming.
Features
Over-ear bass guitar sound system with wireless connectivity, premium amp and effect tones, Bluetooth audio streaming, and sound editing via your smartphone
Advanced BOSS spatial technology and integrated gyro sensor deliver a deeply immersive playing experience with 3D ambience and dynamic sound localization
Five unique amp types and over 30 customizable bass-tuned effects
Play along with 10 acoustic drum grooves and an advanced metronome with 32 rhythm variations
Integrated BOSS wireless technology provides exceptional sound quality with ultra-low latency
Easy-to-use controls for bass guitar volume and Bluetooth audio playback, plus instant access to six user-configurable tone settings
Large, custom-designed 50 mm drivers deliver premium audio quality with rich, full sound
Conforming ear pads ensure optimum driver performance for uncompromised bass guitar tone
Versatile two-way design folds down for compact storage or flat transport in the pocket of your instrument bag
Built-in rechargeable batteries with auto standby/wake function to conserve battery life
Up to five hours of play time with the headphones and up to 12 hours with the included WL-T Transmitter
Durable construction and metal parts with deluxe black chrome plating
Wirelessly edit, organize, and download tones with the BOSS Tone Studio app for iOS and Android mobile devices
Control effects and more with the optional EV-1-WL Wireless MIDI Expression Pedal
Optional CB-WZ-AIR case available for carrying the headphones, transmitter and USB charging cable