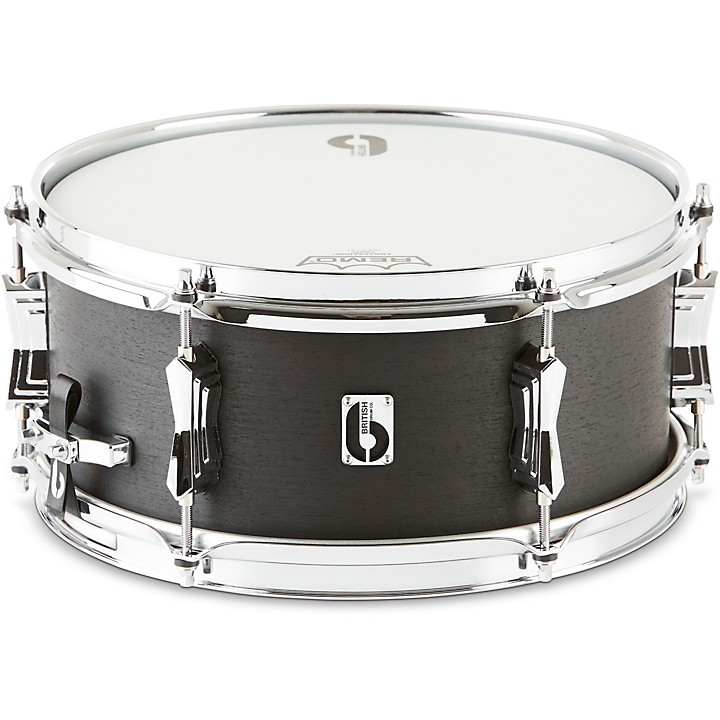 Portability, power and projection from this pint-sized snare drum.
Packing a punch that far exceeds its size, the Imp 12x5.5" snare drum is a professional level snare that works well as a side or main snare.

Finished inside and out in the legendary Kensington Knight finish and crafted using the same cold-press molding process as British Drum's Legend and Lounge Series. The tone is beautifully warm, deep and has unrivaled projection from any other snare in its class. In addition, the Imp snare's shell size has been optimized to complete the specification and deliver a shell projection to rival the volume of a much larger snare.

Cold- Press Molding
"Cold Press Molding" is key to the British Drum Co's signature sound. Using years of experience in wood working and drum shell manufacture we believe the secret to their sound and the key to a stable drum shell is the absence of heat when pressing and molding the shells. British Drum's timber and shells are allowed to naturally acclimatize to the surrounding environment before and after being molded. Regarded as the finest shells reviewed by Geoff Nichols of Rhythm Magazine.

Palladium Hardware
The IMP drum kit is fitted with British Drum Co.'s elegant Palladium hardware.

When designing their lugs and claw, British Drum Co. took inspiration from the architectural and automotive designs of the Art Deco period which resulted in an instant classic look they're extremely proud of.

The lug range comprises of a small single lug (for Legend toms), a large single lug (for Legend bass drums), a short double lug (for snares and Lounge toms), and a long double lug (for deep Lounge toms and Lounge bass drums).

Made from the same cast alloy, the claws echo the lug styling and are completed with Shore 60 hardness molded rubber gaskets to protect the wooden hoops.

The same Art Deco theme continues into the Palladium tom brackets which uniquely attach to the shells with vertically aligned fixings that don't stiffen up the shell like other mounts. These allow the shells to resonate a full 360 degrees without dead spots.

British Drum Co.'s tom brackets have internal chevron features designed to clamp 10.5 mm and 12.5 mm diameter L-arms and floor tom legs securely while totally eliminating rotation. Self-aligning and visually integrated memory locks finish the clean look and ensure repeatable positioning.

IMP Shell
The IMP shell is a combination of maple, tulip and birch, arranged to optimize volume and projection.

IMP Bearing Edge
The precision hand-cut 30º round-over bearing edges increase head-to-shell vibration and boost output.
Features
Cold-pressed maple shell
Round over, 30º bearing edges
2.3 mm triple-flange hoops
6 chrome-plated Palladium snare lugs
Remo coated Ambassador batter head
Remo Hazy snare resonant head
BDC Smooth action strainer
Nyloc lug inserts to prevent de-tuning
Kensington Knight finish