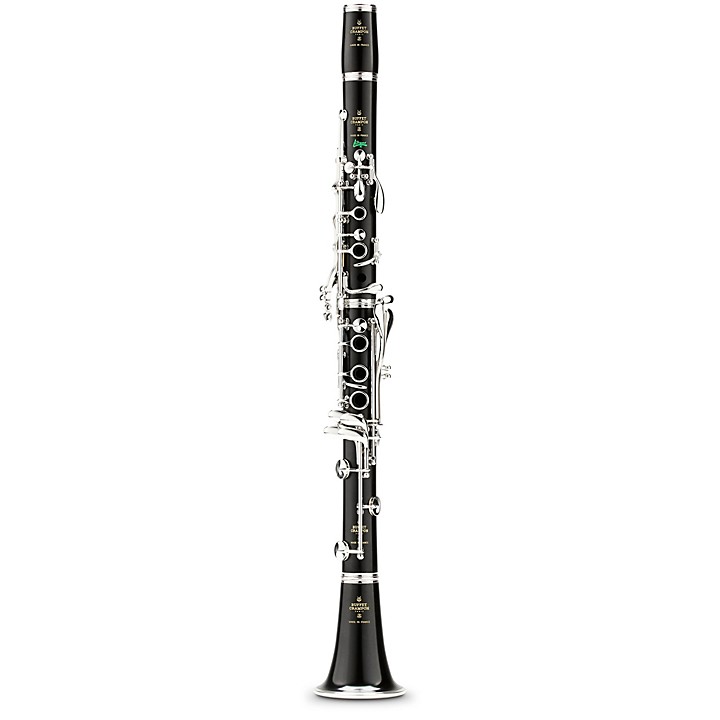 Popular among military clarinetists or any player who is subjected to changing conditions.
The R13 Greenline Series of clarinets follows the same manufacturing process as the 100% grenadlla R13s. Thanks to the addition of carbon fibers, Greenline clarinets withstand admirably to variations in atmospheric conditions (temperature, humidity). The risk of cracking is therefore eliminated. Created in 1994, the Greenline series of instruments has taken advantage of the excess wood remaining from the clarinet manufacturing process. This process of combining grenadilla powder with carbon fibers produces a clarinet that is greatly resistant to environmental change and helps to relieve stress on the African grenadilla wood population.

Most clarinetists purchasing an instrument with this level of distinction have particular preferences in terms of mouthpieces, so the Tosca Bb Clarinet is priced and shipped without one. A fine-quality, French-made HB ligature is included. The HB is a silver-plated metal ligature that is very easy blowing and provides a round, centered and brilliant sound as well as a superior detaché in the upper register. NOTE: Buffet does not include a mouthpiece with this instrument.
Specifications
Level: Professional
Key: Bb
Barrel, Body and Bell Material: Greenline (95% grenadilla powder, 5% polycarbonate fiber and epoxy resin)
Keys: Nickel-plated
Key System: Boehm (French)/17 keys
Tone Holes: Undercut
Bore Shape: Polycylindrical
Bore Size: .574'' (14.58mm)
Barrel: 66mm cylindrical
Pads: Double fish skin
Springs: Blue steel (French)
Includes: Deluxe case, ligature, cap and care products
Crafted In: France
Features
Body constructed of 95% grenadilla wood and 5% polycarbonate fiber and epoxy resin
Withstands extreme temperature and humidity changes
Will not crack
Hand-burnished bore improves intonation and centers tone
Same level of finshing as wooden clarinets
Nickel-plated keys
Undercut toneholes improve tone and ease of response
NOTE: Buffet does not include a mouthpiece with this instrument