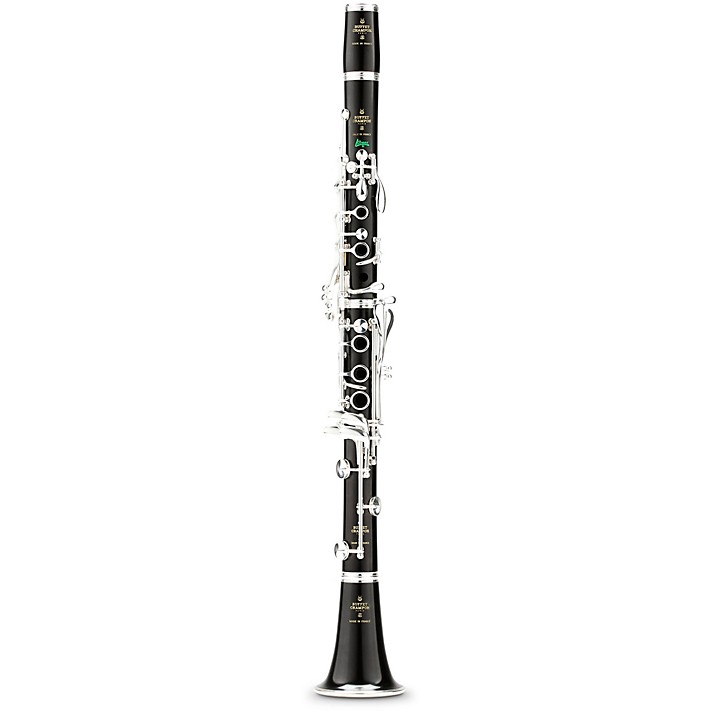 The Buffet R13 Greenline clarinets are highly popular among military clarinetists or any player who is subjected to extreme conditions.
The Buffet Crampon R13 Greenline Professional Bb Clarinet with Silver-Plated Keys combines a celebrated heritage with groundbreaking innovation. First developed in 1955, the R13 earned renown as one of the world's premier clarinets thanks to its richness of tone, projection and flexibility across musical genres. Buffet Crampon has reimagined their iconic R13 using a proprietary wood and polycarbonate composite, resulting in the R13 Greenline; an instrument that provides the same impeccable intonation and response as its wooden counterpart, with a durability that can withstand extreme changes in temperature and humidity without damage.


A Poly-Cylindrical Bore for Optimal Intonation
Unlike a standard conical bore, the R13 Greenline's poly-cylindrical bore utilizes two distinct bore sizes, enabling improved intonation as you traverse the instrument's range. The R13 Greenline's bore, combined with its composite body, yields a tone that is centered, focused and rings with overtones.


Sculpted Keywork for Fluidity and Control
The R13 Greenline's 17 keys are forged and finished by hand, exhibiting a fluidity and precision that empowers nuanced performance. Fitted with bladder pads for an airtight seal, the R13 Greenline's keys are responsive yet quiet, enabling the clarinetist's technique and musicality to shine through. An adjustable thumb rest further customizes the feel to suit any hand size.


A Tradition of Excellence, Reimagined
For over 200 years, Buffet Crampon has crafted woodwinds that shaped modern instruments and influenced legions of musicians. The R13 Greenline continues this tradition with a clarinet that dazzles on stage through its warm, resonant tone, superior projection and dynamic range all while safeguarding against the perils of weather. Whether performing in an orchestra, jazz ensemble or marching band, the R13 Greenline is a revolutionary instrument for today's clarinetist.


A Protective Case for Carefree Transport
The R13 Greenline includes a premium leather case, allowing safe transit to rehearsals, performances and anywhere music takes you.


Specifications
Level: Professional
Key: Bb
Barrel, Body and Bell Material: Greenline (95% grenadilla powder, 5% polycarbonate fiber and epoxy resin)
Keys: Nickel-plated
Key System: Boehm (French)/17 Keys
Tone Holes: Undercut
Bore Shape: Polycylindrical
Bore Size: .574'' (14.58 mm)
Barrel: 66 mm cylindrical
Pads: Double fish skin
Springs: Blue steel (French)
Includes: Deluxe case, ligature, cap and care products
Country of Origin: France
Features
Withstands extreme temperature and humidity changes
Will not crack
Hand-burnished bore improves intonation and centers tone
Same level of finishing as wooden clarinets
Nickel-plated keys
Undercut tone holes improve tone and ease of response
NOTE:
Buffet does not include a mouthpiece with this instrument