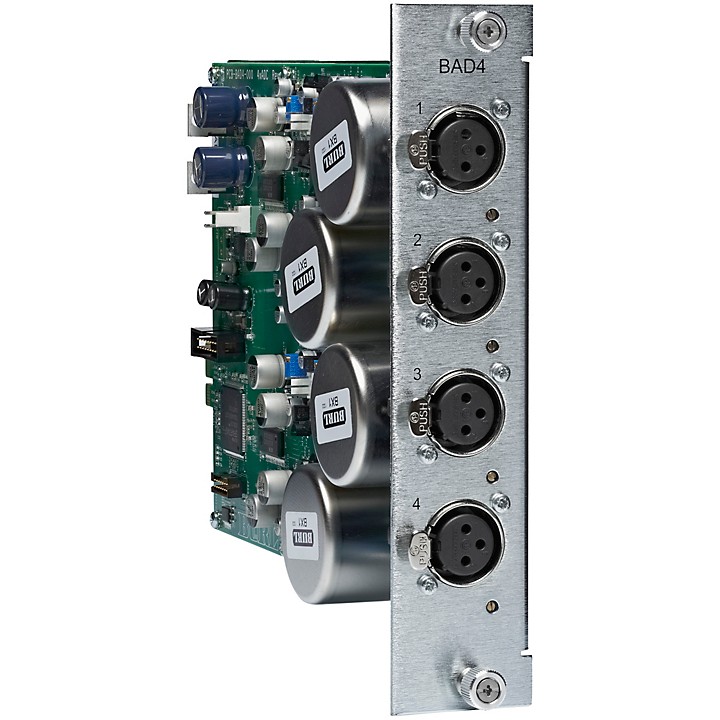 Your signal path can rock as hard as you do.
The BAD4 is the multi-channel version of Burl Audios critically acclaimed B2 Bomber ADC. Pushing the boundaries once again, the Burl Audio B80 Mothership AD/DA converter has up to 80 channel capability. Using a card based system, and a heavy duty 4U chassis, the B80 Mothership employs 10 card slots with 4 channel AD cards, all with the B2 quality signal path.

Every ADC channel has proprietary BX1 transformer on input. For many who have already embraced the B2 Bomber, this is a dream come true. Recording an entire band and playing back through 24 channels Burl at a time, is a truly beautiful experience.

With a completely configurable AD/DA, a converter for any situation can be realized. If you track live, 6 BAD4 cards will give you 24 B2 quality inputs, and 4 BDA8 cards gives you 32 channels of outputs.
Specifications
44.1k Hz to 192k Hz, 24 bit, 2 channel ADC
Proprietary, high definition, BURL Audio BX1 transformer input
All class A, discrete transistors signal path with zero feedback, zero caps
Audiophile quality 6 position attenuator with standard headroom settings
High definition metering with simultaneous RMS and peak indication
Two AES and one SPDIF output with dual AES wire support
BNC word clock input with two outputs of extremely low jitter clock
Frequency response at 48kHz sample rate is 12Hz to 22kHz, +/- 0.1dB
Frequency response at 96kHz sample rate is 15Hz to 46kHz, +/- 0.1dB
Frequency response at 192kHz sample rate is 18Hz to 94kHz, +/- 0.1dB
120dB Dynamic Range (A- weighted), 117dB (no weighting)
-100dB THD+N (+4dBU = -15dBFs)
-94 dB THD+N (+18dBU = -1dBFs)
Rugged, Made in USA design
Features
44.1k Hz to 192k Hz, 24 bit, 4 channel ADC
Exact same circuit path as B2 Bomber ADC
Proprietary, high definition, BURL Audio BX1
transformer input
All class A, discrete transistors signal path with zero feedback, zero caps
4 XLR connectivity