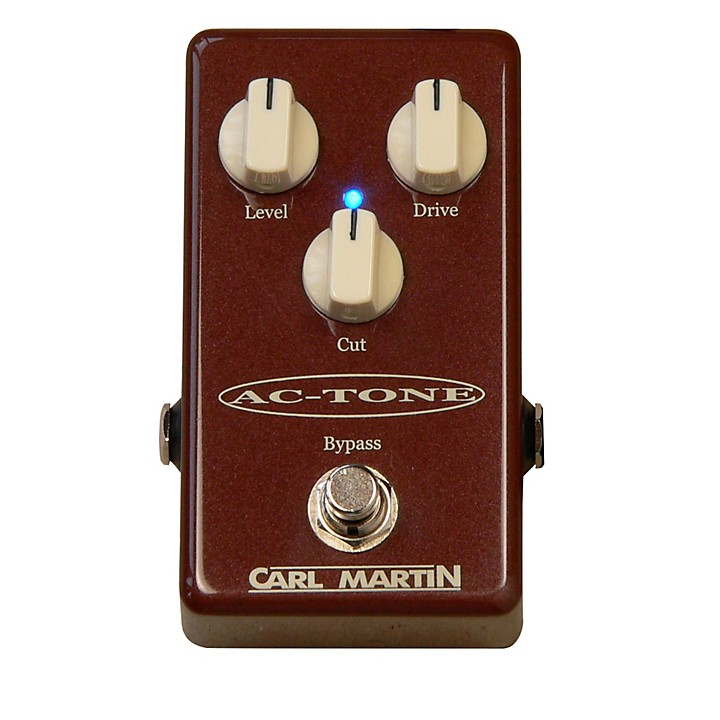 An overdrive that lays classic '60s British tone at your feet.
The AC-Tone is the next overdrive in the British voiced vein. It's a three in one pedal. It offers two channels of overdrive, voiced alike for preset usage along with a clean boost channel that gives you up to 20dB of boost. The overdrive is low to medium gained for a sweet and crispy with the mellow midrange that reminds one of the old TopBoost amps from the late 60's, the two channels are ranging from a mild breakup to a healthy overdriven sound. One channel can be used for that slightly chimey breakup, and the other channel can be set for more overdrive giving more saturated mids and drive, you can freely set them the way that suits your needs.

The AC-Tone has as most Carl Martin pedals a built in regulated (+-12V) power supply, to secure the necessary headroom that gives you the great tone.
Specifications
Power: 100 or 115 or 230 VAC 50-60Hz
Power consumption: 2,3 Watts
S/N ratio: 58 dB
Input impedance: 1M Ohm
Output impedance: 200 Ohm
Gain max: +80dB
Boost max: +20dB
Dimension: 186(D) 120(W) 55(H)
Weight: 0,820Kg
Features
Classic British amp sound
Two channels of overdrive
Clean boost channel