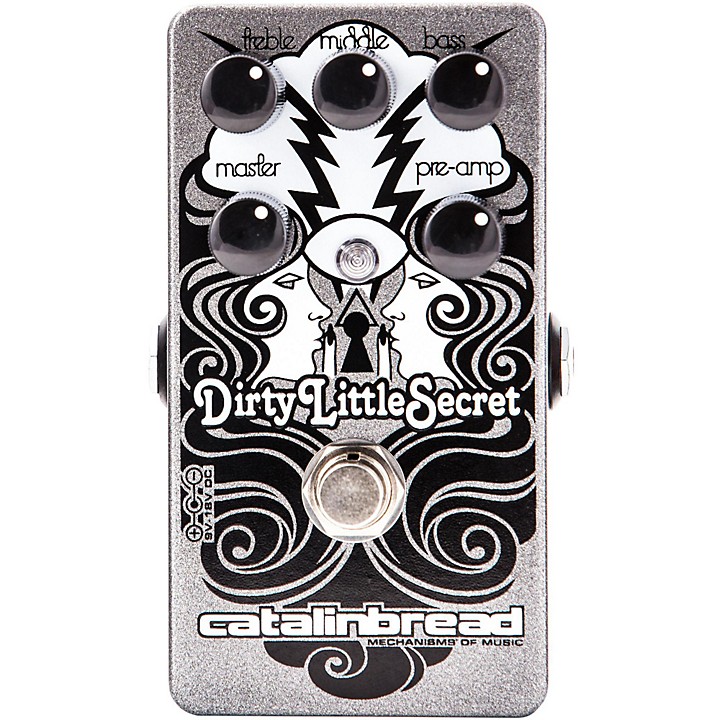 Classic Marshall sound stuffed into an awesome pedal.
The Dirty Little Secret has earned itself a well-deserved reputation for replicating the sound and feel of a classic-era Marshall amplifier, supplying one of the most iconic guitar sounds in music. When the JFETs used as the base for the Dirty Little Secret were discontinued, and as the designers' stock of them began to dwindle they knew they had to find ones still being manufactured. However, rather than simply re-voicing around these new JFETs, we decided to push the envelope and provide an amazingly robust feature-set, from ever evolving listening and circuit skills, and pure power of intention. This isn't just "a" Marshall in a box, it's the most versatile and dynamic Marshall-style overdrive out there!

The "Super Lead" mode expands the range of the DLS MkII with more gain available and more control over your tone sculpting with the addition of the midrange control while still enhancing the touch-sensitive dynamic qualities that make the DLS so great to play. The gain range now goes from classic plexi all the way to modified JCM800 levels and can get even more raw and open than any previous DLS.

The "Super Bass" mode is a new voicing that gives you the tone and gain structure of a Marshall Super Bass (which is very similar to a JTM45 or JTM50/100). This mode was voiced to really hone in on that elusive in-between "not quite clean, not quite dirty" response that old tube amps were so good at getting. And it was specifically voiced to make fuzz pedals sound great.

The Dirty Little Secret (DLS) is an overdrive pedal designed to bring you the sound and response of a classic Marshall amplifier. It, like the other pedals in Catalinbread's Foundation Overdrive range of pedals, is designed to be a "foundation" pedal - it is your "always on" pedal that forms the core of your guitar sound which you can enhance and embellish by adding boosters, fuzzes, filters, and other overdrives in front of it - just like you would in front of a real amp. And the reason you can leave it always-on is that you can get a great clean sound just by rolling your guitar's volume knob back! That's the way the old school Marshall players did things!
Features
Complete redesign with two Marshall modes
Super Lead and Super Bass to suit your sound
Fantastic cleanup with your guitar's volume control
Ideal for stacking with fuzzes, ODs and boosts
Exact tonestack circuits from SL and SB amps for true-to-amp response