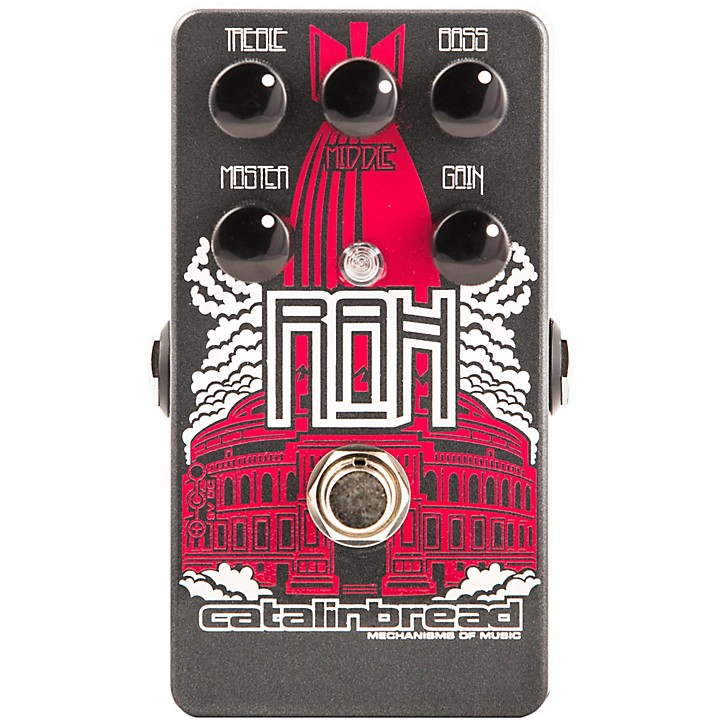 A royal recreation of Jimmy Page's Royal Albert Hall Hiwatt tone.
This overdrive effects pedal features the specific three-knob tone circuit straight from the custom "Jimmy Page" model Hiwatt. Like most traditional amp EQ circuits, the knobs are interactive, meaning turning one can alter the behavior of the other. The magic is getting the Mid and Bass controls dialed in together. Tweak those until you get the right tone for your guitar and amp. You'll notice that the Treble knob is fairly subtle, adding a bit of bite as it is turned up. If you scoop the Mid and turn up the Bass however, the Treble knob will seem a lot more active.

The RAH is designed to deliver guitarists an incredible dynamic range that responds to picking hand and/or volume knob. Like a good amplifier the RAH is very uncompressed, which means there is little to "hide behind". This pedal is for players who appreciate the rewards and experience of a wide dynamic response. Plug the RAH into a clean(ish) tube amplifer, leave the pedal on all the time accessing clean tones by rolling back your guitar's volume knob, or turn it on and off as your "gain channel".
Features
Interactive controls to let you find the perfect sonic combination
A wide dynamic range with lots of response
Works great as a gain channel for the foundation of your sound.