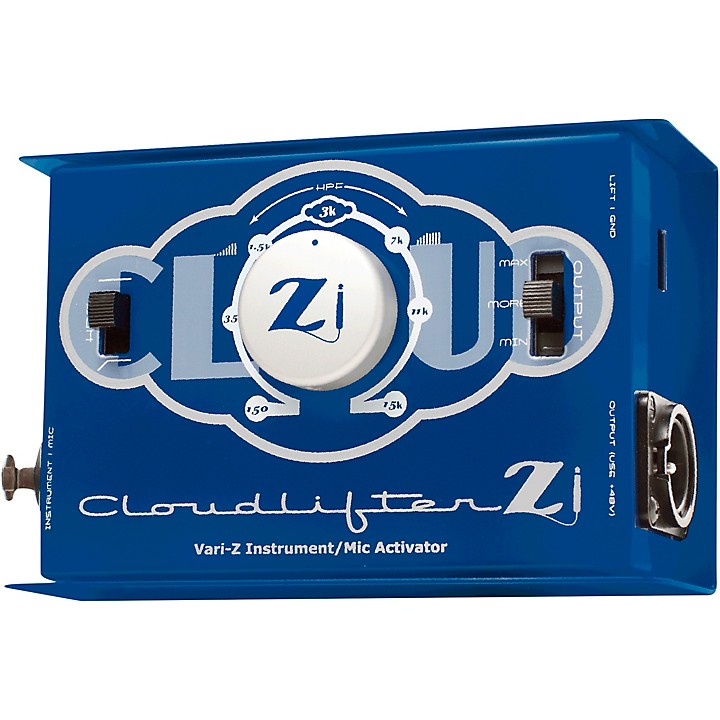 Instrument DI and mic activator with continuously variable input impedance and high-pass filtering.
Cloudlifter Mic Activators are used by thousands of professionals all over the world to improve the quality of their microphone's sound. The Cloudlifter Zi incorporates this patented technology and variable impedance control into an active DI for guitar players, bass players, keyboard players and more. The CL-Zi provides up to +25dB of ultra-clean gain for XLR microphones and lo-z sources and up to +15dB for 1/4 in. instruments and other hi-z sources, via the Neutrik combination dual-input connector and Hi-Z to Lo-Z CineMag instrument transformer.

The Cloudlifter Zi maximizes the instrument or microphone's signal strength and clarity and lowers the noise floor and amount of gain required from the preamp. The premium CineMag transformer, encased in MU metal for optimal shielding, brings out the natural beauty and character of your instrument, while lowering the impedance to mate perfectly with the Cloudlifter's patented Vari-Z interface and phantom-powered gain circuit. By allowing your preamps to operate in a more comfortable gain range, the natural frequency response of the microphone or instrument remains intact and the self-noise of the preamp is drastically reduced.

Vari Z Interface = Massive tone control
The Cloudlifter Zi has continuously variable input impedance and continuously variable high-pass filtering that works in tandem to create massive tone control in a uniquely beautiful way that can only be accomplished through manipulation of impedance. Having input-Z control that is sweep-able from 150 ohms to 15k ohms allows you to creatively load the microphone's output, or the low impedance output of the CineMag instrument transformer, prior to the CL-Zi's ultra-clean gain stage. This allows you to shape and contour your tone, whether you are using a microphone or going direct with an instrument.


Variable High-Pass Filtering = Proximity Effect Control
The continuously variable high-pass filtering works in conjunction with the impedance value which allows for even greater tonal shaping. When engaged, the frequency cutoff is affected by the impedance setting. This allows for a -6dB per octave sweep-able frequency reduction from approximately 20hz to 4khz, just by turning the "Z" knob. This can be especially useful for reducing the proximity effect of a ribbon or dynamic microphone, or for easily eliminating low-frequency boom from acoustic, and shaping tonal characteristics from electric instruments such as bass, guitar and keyboards. Getting the desired result using the HPF is incredibly easy and intuitive; just turn the "Z" knob until it sounds right!

Variable Gain
The CL-Zi has a three-position gain switch allowing for minimum gain, more gain, or maximum gain available. Most of the time the MAX position (up to approx. +25db for microphones or +15dB for instruments) will be used, however, the middle gain setting (up to 12dB for mics or 6dB for instruments) and the minimum gain setting (up to +6dB for mics and 3dB for instruments) may be useful in situations where the source does not require as much gain, or where more of the preamp's color from additional gain is desired. It is notable that the Hi-Z to Lo-Z CineMag transformer initially reduces the level of the instrument, as it would with any DI transformer, but then increases once the signal is fed into the Cloudlifter's amplification circuit. This usually results in a net gain with instruments up to 15dB, depending on the instrument and preamp combination. This accounts for the net gain with an instrument being a bit less than what you can expect to see with a microphone, in terms of total decibels of gain.
Features
Fully Sweepable Vari-Z Loading from 150ohms to 15kohms.
Continuously Variable High-Pass Filtering @ -6dB per octave
Three Gain Settings Yield up to +25dB, 12dB, or 6dB with Mics and +15dB, 6dB, or 3dB with Instruments
Improves Microphone Gain Before Feedback Ratio in Live & Public Address Applications
Easy to Use Self-Contained Design Requires Only Phantom Power
Rugged, Road-Ready, and Portable for Studio, Stage, and Broadcasting