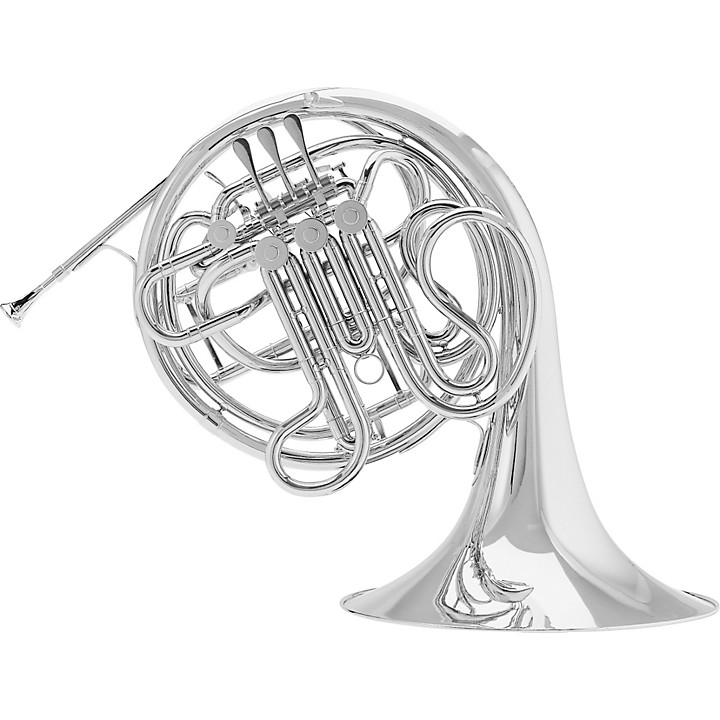 One of the most popular double French horns with professional players.
The CONNstellation 8D Series Double Horn delivers powerful projection and nuanced control that discerning horn players demand. Conn's flagship double horn provides an exceptionally focused tone across all registers thanks to its large-throat 12.25" nickel-silver bell and .468" bore. The Kruspe wrap and nickel-silver leadpipe offer balanced resistance for articulate attacks and tapered rotors enable a fast, sensitive response. Adjustable features like the pinky hook provides customized comfort. Whether performing intricately layered chamber pieces or projecting a melody over a full orchestra, the 8D empowers hornists with a commanding voice and nimble dexterity.


Large Nickel-Silver Bell Projects with Clarity
At the heart of the 8D's bold tone is its 12.25" nickel-silver bell, which provides ample resonance and projection with tightly focused overtones. The bell's large throat and nickel-silver construction give hornists a broad dynamic range that maintains tonal integrity even at extreme volumes. Complex passages ring with clarity as each note speaks promptly and fades cleanly into the next.


Classic Bore and Kruspe Wrap Focus the Timbre
The 8D's .468" bore concentrates the instrument's timbre for a centered tone across all registers. In combination with the Kruspe wrap, the narrow bore produces balanced resistance that enables articulate attacks and a dark, mellow timbre. The wrap's elongated tubing also stabilizes intonation for harmonically rich chords and melodic lines.


Adjustable Features Customize Playing Comfort
Thoughtfully placed adjustable features maximize playing efficiency and minimize fatigue. The 8D's pinky hook can be tailored to different hand sizes and positions to reduce strain. This customizable component provide ergonomic support for extended practice sessions and demanding performances.


Additional Premium Appointments
High-quality appointments further elevate the 8D's performance. A nickel-silver valve section and tuning slides resist corrosion and ensure air-tight seals for accurate intonation. Tapered stainless steel rotors and bearings deliver a smooth, rapid response. A clear lacquer finish protects the nickel-silver body and provides an attractive glossy sheen. Reliable and road-ready, the 8D includes a molded case for safe transport and storage.


Features
Key: F/Bb
Bore: .468-inch
Bell: 12.25-inch
Bell Type: Fixed
Bell Throat: Large
Bell Material: Nickel Silver, Rose Brass, Yellow Brass
Leadpipe: Fixed
Leadpipe Material: Nickel Silver, Rose Brass, Yellow Brass
Wrap: Kruspe
Linkage: String Main Valve; Mechanical Change Valve
Features: Nickel Silver Valve Section and Tuning Slides; Tapered Rotors and Bearings
Case: Yes
Mouthpiece: Conn 7BW
Finish: Nickel Silver, Lacquer