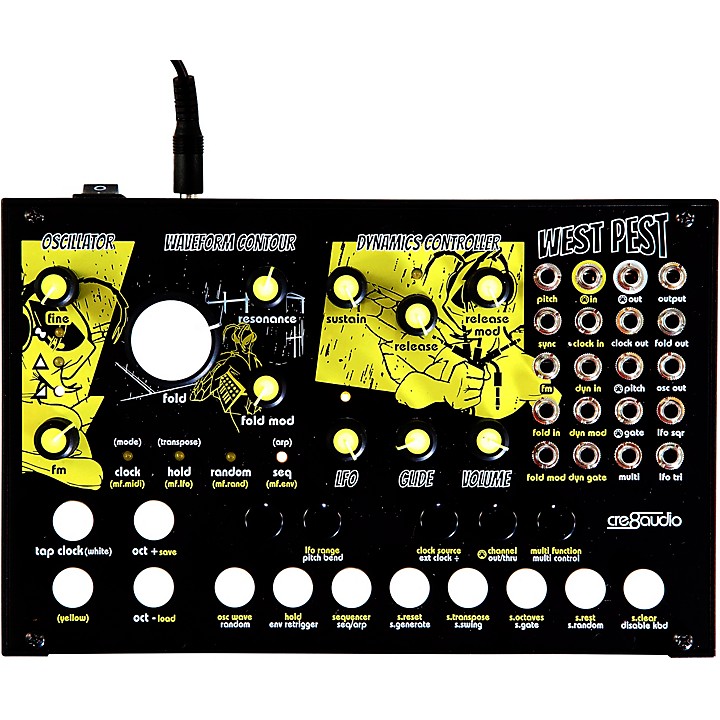 A fully analog West Coast-style semi-modular synthesizer.
The West Pest is a semi-modular synthesizer that follows the West Coast style—typically characterized by additive-derived, rich and complex sounds. More traditional user interface elements are replaced by the abstract and experimental, providing a wide array of sonic capabilities while maintaining a quick-and-easy workflow. It's designed to create fresh and inspiring sounds in a flash. West Pest's huge sonic capabilities emanate from its modest bento box-sized exterior.

For ultimate versatility, the West Pest can be popped out of its included enclosure and transform into a 40HP Eurorack module.
Fat Sound in a Portable Synth
West Pest's oscillator, designed in partnership with Pittsburgh Modular Synthesizers, is a part of their fifth generation of analog oscillators stemming from 10 years of continued research into analog oscillator development.

Its circuitry is not a clone or based on any outside designs. It is made with 100% modern components. This keeps it very stable, and gives it a super-rich and unique sound.
Folding Waves, Space and Time
Pittsburgh Modular Synthesizers are true innovators when it comes to wave folding and shaping, and it shows on the West Pest. The West Pest utilizes a custom wave folder to shape the sound, adding deeper dimensions to its already unique sounding oscillator core.

A wave folder shapes sounds differently from a filter. Instead of removing harmonics, the wave folder increases the harmonic content of the oscillator by folding the wave in on itself to create sonically rich waveforms. West Pest's wave folder takes what traditional wave folding circuits have done for years and ups the ante, allowing the user to fold previously unfoldable waveforms. In addition to being able to send all of West Pest's waveforms through its wave folder/shaper, you can also input external sound sources.
Sculpt West Coast Style
In continuity with the whole West Coast synth vibe, West Pest has a dynamics controller as well as an LFO to further sculpt its sound. The Dynamics Controller combines the functionality of a VCA with a low-pass filter to imitate the behavior of soundwaves in the real world by dynamically modifying the harmonic content with the volume of the sound.
Get Patched
Semi-modular means that the West Pest will work without any patch cables or anything. West Pest has eight different patchable modules (oscillator, wave contour, dynamics control, LFO, multi-mod tool, sequencer, MIDI-to-CV converter and button keyboard). It comes with a whopping 18 Eurorack compatible patch points to plug into itself and your other gear.
MIDI and Sequencer
The West Pest has MIDI in and MIDI thru, so you can daisy-chain multiple MIDI monstrosities together. This allows you to plug a MIDI controller into the West Pest. Dive in with West Pest's built-in tap tempo clock, arpeggiator and sequencer—and create seamlessly.
Specifications
General
Sequencer: 32 steps with 13 presets
Waveforms: Sine, triangle and saw
LFO: Dual-range analog
Internal clock: Yes
Tap tempo: Yes
Other
Width when used as a module: 40HP
Depth when used as a module: 25 mm
213mA power draw when running: +12V rail
151mA power draw when running: ¬–12V
Input voltage range of oscillator: 0–10V
Included in the Box
(1) West Pest
(1) West Pest wall wart power supply
(5) Nazca Noodles patch cables
(2) 3.5 mm to 5-pin MIDI Din pigtails
Features
32-step sequencer with up to 13 presets
Generative sequencing mode and clock-synced arpeggiator
Pittsburgh Modular Synthesizer-developed 100% analog oscillator
Sine, triangle and saw waveforms can be combined
Oscillator includes frequency modulation (FM)
Variable-state, multi-mode PGH "No-Dead-Spots" filter (low pass, band pass, high pass; modes can be combined)
Analog envelope generator and integrated VCA
Dual-range analog LFO with square and triangle wave outputs
Digital multi-mod tool—modulation control via CV, random generator, and extra LFO and envelope generator
Internal clock, built-in clock divider and tap tempo that can be clocked via an external source
Can be used standalone in its included case or removed and used as a Eurorack format module