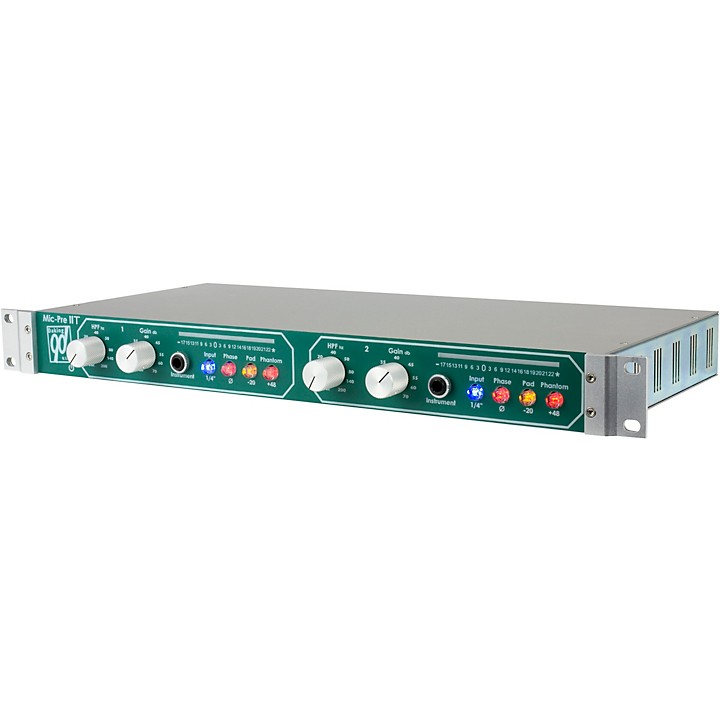 Based on a classic console design of the '80s with upgrades.
The Mic Pre IIT combines two of Daking's celebrated stand-alone Mic Pre One units in a single rack space form factor for a surprisingly affordable price. Like the Mic Pre One, the Mic Pre EQ MkII, and the Mic Pre IV MkII, the Daking Mic Pre IIT circuitry is based on a classic console design of the '80s with some upgrades: Variable High Pass Filters on each channel, class "A" amplification, extremely high headroom (+24) and a single-sided 48V power supply. The Mic Pre IIT adds Jensen transformers on both the input and output for a nice touch of color that Jensens are known for.

The Mic Pre IIT's high pass filter is continuously variable from 10-200Hz, and drops at 12dB per octave. It seems to have a magical ability to clean up the muck while making what remains sound even better. It is extremely helpful to DAW users who inadvertently record subsonics that muddy up tracks and mixes.
Specifications
Jensen transformer-balanced XLR inputs and outputs
Discrete transistor circuitry
Class "A" amplifiers for the preamp and High-Pass Filter
70dB of gain
Continuously variable Gain Control
20 segment LED VU Meter (-20 to +25)
+23dBu overload indicator
Floating peak indicator
All relay switching with gold bifurcated contacts
Switched +48 Volt Phantom power
20dB pad on mic input
All-metal construction with stainless steel chassis for noise immunity
Custom aluminum knobs
Power supply included
Inputs: 2 x XLR, Outputs: 2 x XLR, 2 X TRS
1U 19" rack-mount case: 17" (43.18cm) width, 8.375" (21.27cm) depth, 1.625
(4.13cm) height.
Unit weight: 6.35 lbs. (2.88 kg)
Box weight: 9.75 lbs. (4.42 kg)
Box dimensions: L: 29" (73.66cm) (736.6mm) W: 14" (35.56cm) (355.6mm) H: 6" (15.24cm) (152.4mm)
Features
Jensen transformer-balanced XLR inputs and outputs
Discrete transistor circuitry
Class "A" amplifiers for the preamp and High-Pass Filter
70dB of gain
Continuously variable Gain Control
20 segment LED VU Meter (-20 to +25)
+23dBu overload indicator
Floating peak indicator
All relay switching with gold bifurcated contacts
Switched +48 Volt Phantom power
20dB pad on mic input
All-metal construction with