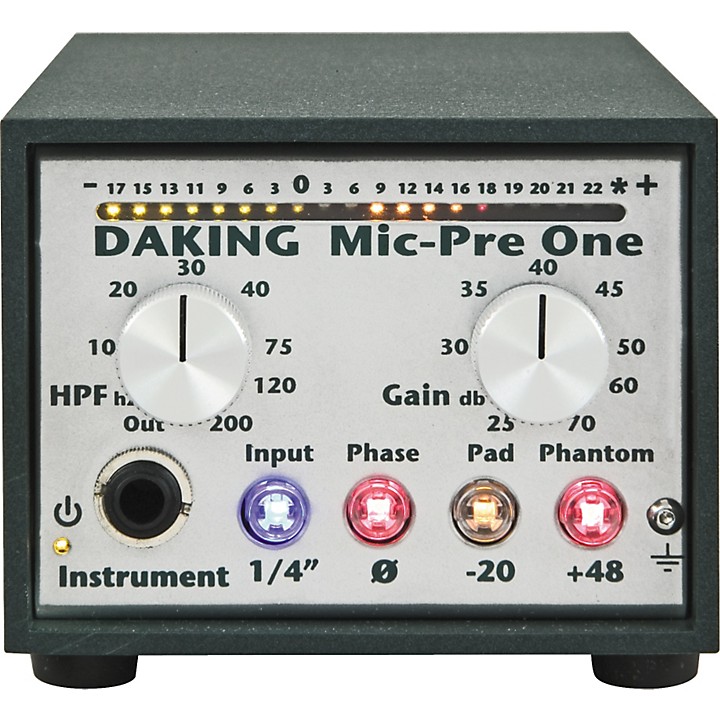 A single-channel preamp built in the tradition of Neve and API.
The Daking Mic Pre One is a free-standing single-channel preamplifier that uses the same circuitry found in Daking's 4-channel Mic-Pre IV, a favorite among top producers and engineers such as Butch Vig (Nirvana, Green Day, Smashing Pumpkins), David Pensado (Mary J Blige, Beyonce, Brian McKnight), and both Chris and Tom Lord-Alge (who haven't they mixed?). Built in the tradition of the great console manufacturers such as Neve and API, Daking preamps feature bulletproof construction and marvelous sound, reminiscent of the coveted classic pres.

While sharing the gain structure and Class A, fully discrete transistor circuitry design of the popular Daking Mic Pre IV, the Mic Pre One adds a unique variable high-pass filter and comes in a freestanding 'DI-style' steel enclosure, ensuring both durability and immunity from noise. Mic Pre One features switchable phase, 20dB mic input pad and +48V phantom power, plus a selectable 1/4" front panel Hi-Z instrument input, all utilizing relays with gold bi-furcated contacts. Two large knurled aluminum knobs control the variable high-pass filter (0-200Hz) and continuously variable input gain between 25dB and 70dB.

A 20-segment LED bargraph display provides accurate metering. Another LED signifies when power is supplied to the Mic-Pre One. Rear-panel connections include a transformer-isolated input for a microphone, plus line outputs on 1/4" jack and XLR.

Specifications
Input: XLR mic in (bal),
1/4" instrument
Output: XLR (fully balanced), 1/4" (tip hot).
Features
Class A amplifier, all-discrete solid state design
Jensen transformer-isolated mic input
Variable high-pass filter (0-200Hz)
20dB pad
Inputs for mic, line, and instrument-level signals
Front-panel Hi-Z instrument input
Phase reversal switch
+48V phantom power
Full-width 20-segment, bi-color LED meter
Balanced XLR output and 1/4" line output
External power supply for noise-free operation and longer component live
Rohs Compliant