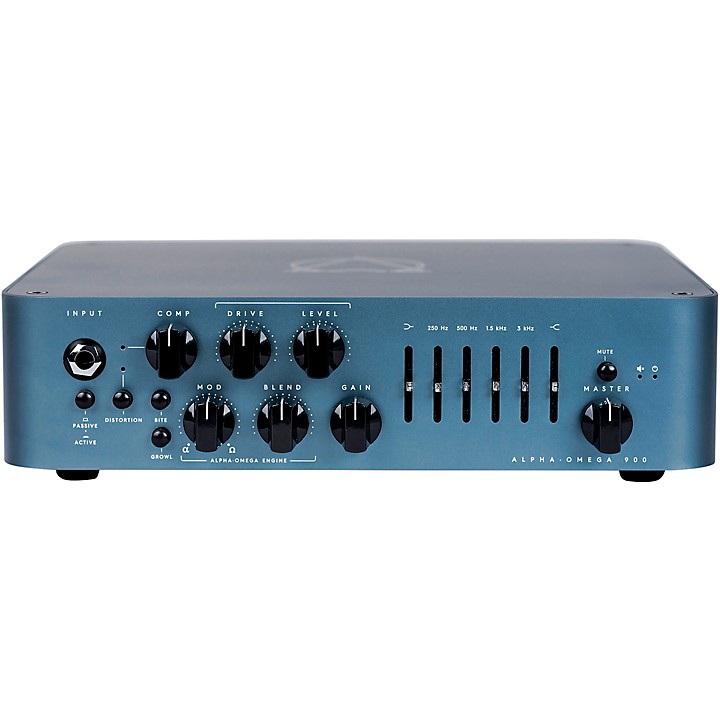 Unleash the amazing bass tone of the Alpha-Omega preamp with 900W of punch.
The Alpha·Omega 900 takes the best elements of Darkglass' most successful distortion preamplifier ever, combined with state-of-the-art features to make a monstrous 900-watt amplifier with earth-shattering tone. While Darkglass' signature Alpha and Omega drive engines add incredible girth and size to the overdriven signal, the studio-grade VCA compressor adds an extra layer of control, and the ultraquiet 6-band graphic equalizer can help sculpt the tone from aggressive and overdriven to crystal clear clean, whatever your needs may be.

That's not everything though, the MIDI programmability and impulse response cabinet simulation with up to three different storable virtual cabinets make the Alpha·Omega 900 not only one of the most complete amplifiers for the touring musician, but combined with the auxiliary input and headphone output, the ideal tool for silent practicing.
Specifications
Dual 1/4"/Speakon jacks
Dual XLR Out Pre and Post
Headphone Jack with separate volume control
Auxiliary In
Memory for 3 Impulse response via the Cab Select switch
MIDI for remote switching, configurable with the Darkglass Suite
USB connector to load IRs, MIDI learning, among other features
Ultraquiet 6-band graphic EQ
Built-in adjustable studio-grade VCA compression
Alpha and Omega Drive Circuits
Passive/Active Switch
4/2 ohm functionality