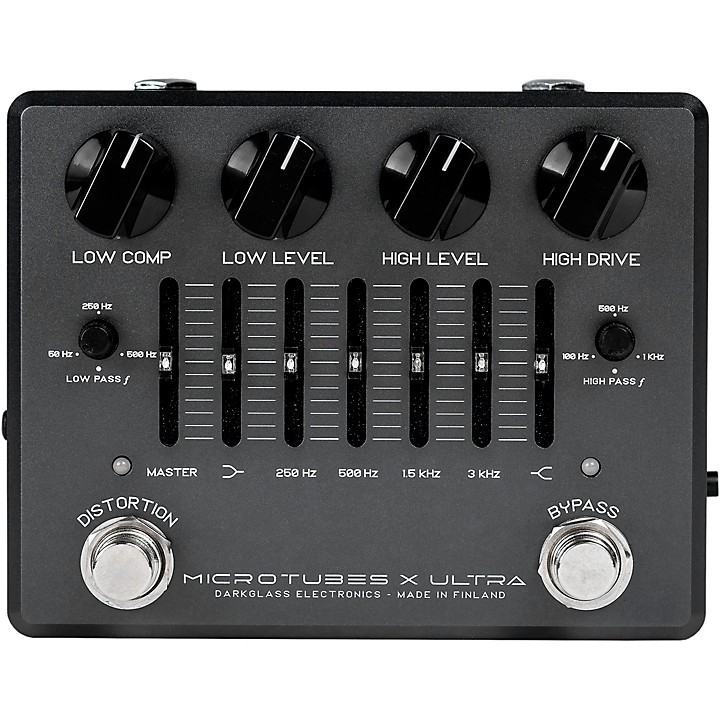 Dial in an amazing bass tone from a tour-grade stomp.
The Darkglass Microtubes X series brings the studio method producers have been using the years to cover the whole bass distortion spectrum: from articulate high gain to punchy mild overdrive, raw and gnarly fuzz and everything in between. You now have absolute control in constructing your vision of what the perfect bass distortion texture, definition, and size should have.

The Microtubes X Ultra is a powerful preamp pedal featuring all the great controls that its predecessor has that allow users to select exactly what frequencies they want to compress and saturate for the low and treble respectively, but with four major additions providing an additional layer of flexibility, while maintaining the same compact footprint, making it an extremely complete tool for the modern bassist.

Specifications
6-band Graphic EQ: Low Shelf, 250Hz, 500Hz, 1.5kHz, 3kHz and High-Shelf
Switchable Impulse Response Cabinet Simulation
Auxiliary Input: connect your PC or phone to play along with your favorite songs or backing tracks
Clean channel: bypass the distortion and low pass filter for a crystal clean tone
Parallel processing split by two variable low-pass and high-pass filters at the input
Compressor for only the low-pass signal
Distortion for only the high-pass signal