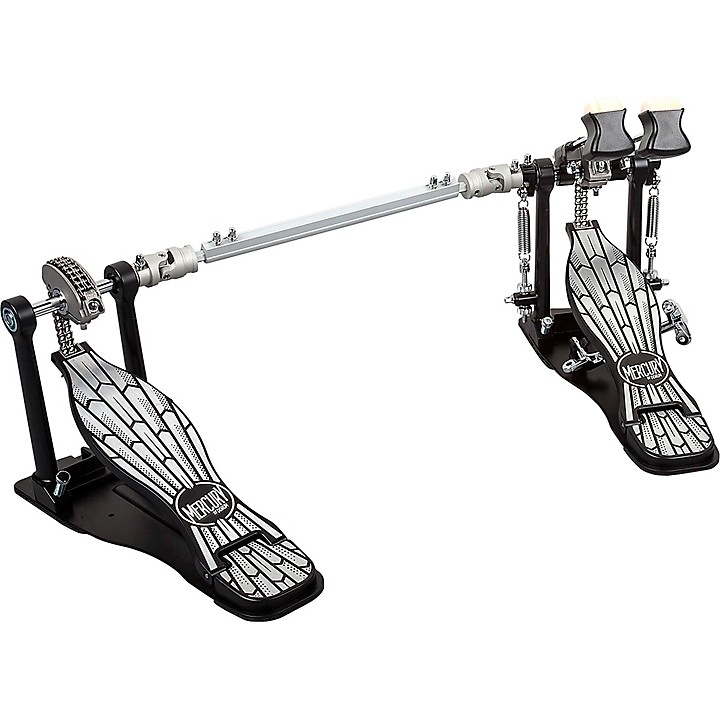 Pro-level hardware and pedals with advanced features and durability that deliver in the toughest playing conditions.
The ddrum Mercury Double Bass Drum pedal is simple elegance. This lightning-fast double chain drive pedal is what a bass drum pedal should be. From the Art Deco foot board and heel plate, to the black floor plate, this pedal exudes class. The liquid-smooth bearings and hemispherical cam allow for anything from the lightest, most intricate footwork to the most aggressive attack. The slave unit uses the same technology for play equal to that of the primary pedal.

DDRUM's extra heavy duty Mercury hardware line is precision cast using the toughest alloys for consistent, reliable, performance and rugged built-for-the-road durability. All Mercury stands are double-braced, touring-class-built, and engineered to include an impressive array of essential features that easily rival any other "pro-grade" hardware in the field.

Looking for a new pedal to take your playing to the next level? Consider Mercury's Double-chain driven single and double pedals—equipped with hemispherical cams that assist in delivering tight response and versatility through a full range of playing styles—from feather light to full-on aggression.

Features
Two-way felt/plastic beaters
Toothless aggressive cam
Subtly textured foot board
Aluminum universal joint
Low-mass design
Lighting-fast response
WARNING: Cancer and Reproductive Harm www.P65Warnings.ca.gov.