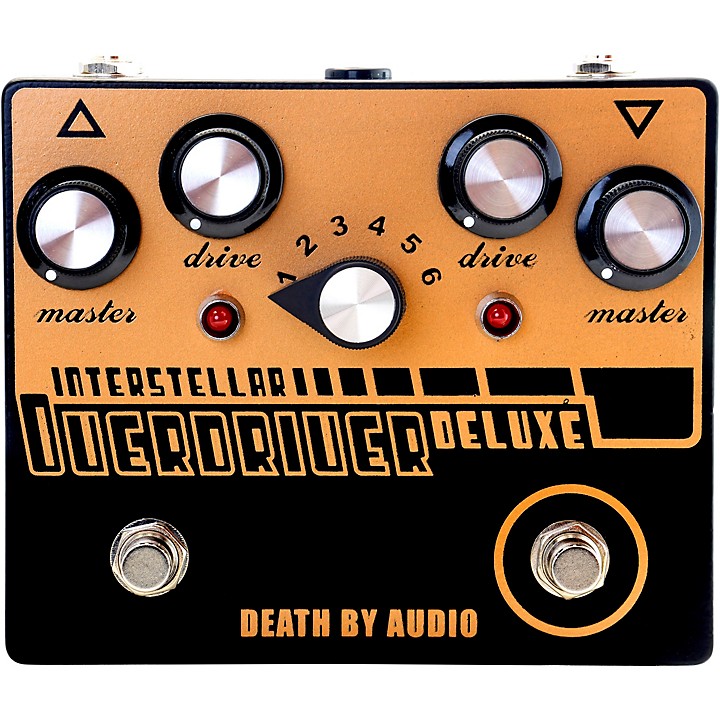 Overdrive effects pedal based on vintage '50s tube amps.
The Interstellar Overdriver from Death By Audio is designed with the best components to create an amp-like, discrete and beautifully transparent overdrive circuit that puts your amp on blast with nothin' but your awesome tone, and lots of it. The circuit is precisely tuned to counteract the harsh, unnatural fizziness that comes with recreating tube overdrive in a stompbox format. Each component is carefully chosen to reproduce the pleasing, organically overdriven sound of vintage speakers pushed to the max. Interstellar Overdriver works just like an old 1950s tube amp – the louder you crank it, the better it sounds. Achieve stadium-sized "rawk" guitar sounds at bedroom levels with the same dynamic crunch and fluid sustain as a fleet of backline amps turned up to the edge of meltdown. Dial in ragged, tweed style breakup and saturation with realistic, spongy tube-like sag and harmonics. Punch up leads and melodies with a clean boost that adds subtle character while preserving your instrument's natural tone. Sprinkle some extra vibe on a plain-sounding DI track.

The controls are super simple – OVERDRIVER sets the input gain for anything from a subtle clean boost to full-on power amp destruction. Once you've found your sweet spot on the Overdriver control, use the MASTER control to set the overall volume level. This pedal loves dynamic playing, so don't be afraid to dig in hard and be sure to work those volume and tone controls on your instrument.
Specifications
Dimensions: 4.75" x 4.05" x 2.17"
Weight: 12 oz
Power: 9V (runs on standard 2.1mm negative center 9V adapter or included 9V battery)
Current Draw: 1 mA