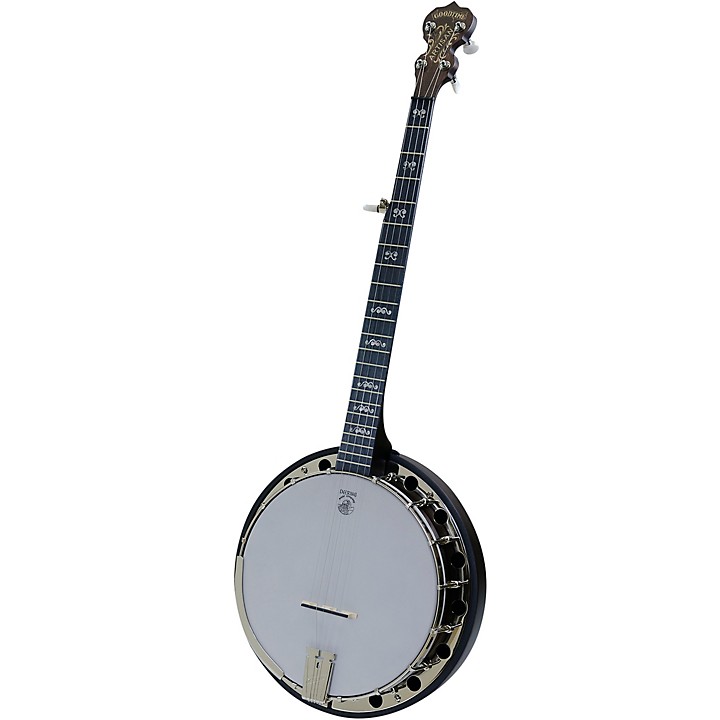 Featuring midnight maple fingerboard and vintage artisan inspired inlays.
With a Bluegrass resonator back for projection, the Artisan Goodtime Two banjo has a 3-ply violin grade maple rim and produces a bright and clear tone that projects well and is louder than its open back counterpart. The Artisan Two is enhanced with a Rich Brown stain, white detailing and spikes at 7, 9, and 10. The use of spikes enables you to expand your playing from the key of G to easily play in the keys of A, B and C.
Here is a banjo you can have right there by your easy chair or take out an play in a jam. It holds its own as a bluegrass banjo for anyone looking for a lighterweight option and has the looks to boot. It's great for hours of practice with an accurate neck that is as comfortable as can be. You'll appreciate how light it is when you reach over to pick it up and enjoy playing it.
Most people who get a Goodtime banjo keep it because they love it even when they step up to their beautiful Deering banjo. The Goodtime banjo still maintains a special place in their life and this is why you don't see a lot of Goodtime banjos on the used market. It's a banjo you can take anywhere.
Midnight Maple
In the wake of the widely reported over harvesting of exotic woods, commonly used for fingerboards, Deering Banjos has developed Midnight Maple – the result of over four years of research and development (as well as a great deal of patience) to produce a high quality fingerboard that is ethically sustainable, readily available in the US and that could be developed and manufactured in house.
Unlike stained maple boards commonly found on instruments of the past, Deering has developed technology to penetrate the tight grain of the rock maple, all the way through the wood. The result is a completely dyed board, made right here in the US from an extremely readily available material. No raw wood shows through from string wear on the fingerboard and stain does not come off on a player's hands.
Deering Banjo Company was founded in 1975 as the world's specialist in banjos and has grown to become the largest manufacturer of American made banjos in the world.