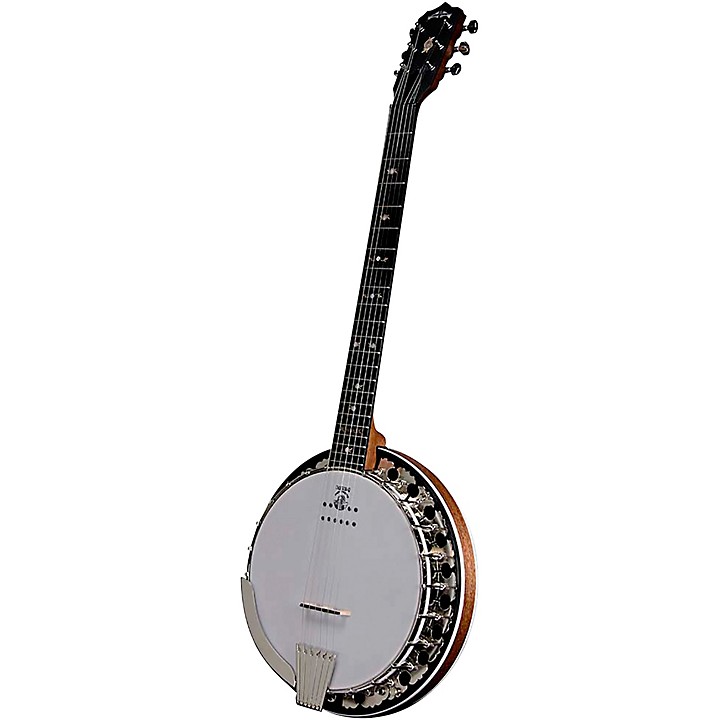 Deering quality in a six-string.
The rolled steel rim of the Boston creates a bright, powerful banjo tone that is unique to Deering banjos. The clarity and crispness of this guitar-tuned, 6-string banjo gives the guitar player a true banjo sound, with guitar tuning convenience. The satin finish mahogany neck and resonator visually enhance the bright nickel plated metal parts. The fingerboard inlays are delicately beautiful and the tuners are precise and smooth. The fully adjustable truss rod allows the player to fine tune the string "action" for any unique and highly personalized playing style.

The humbucking Kavanjo pickup amplifies to extremely high volume without feedback. There are no batteries to change and the pickup works great in guitar amps, acoustic amps, PAs and many other amps the player might have available. The pickup is compatible with effects pedals and volume pedals. The pickup has little to no effect on the acoustic sound of the banjo. Played by artists like Keith Urban and Taylor Swift, this banjo is a beautiful compliment to any musical style and every guitarists arsenal.

Specifications
Neck:
Tropical American Mahogany
Slender Deering Neck Shape
Arched Fingerboard
Seed & Vine Inlays,
Guitar Style Tuners
Adjustable truss-rod
22 Pressed In Nickel-Silver Frets
Pot:
3/16" Durable Nickel Plated Steel Rim
24-Piece Butterfly Flange
24 flat hooks with 9/32" hex nuts
24 Bracket Shoes
11" Frosted Top High Crown Head with Kavanjo Banjo Pickup
Beveled Tension Hoop
Deering 6-string Tailpiece
Nickel Plated Hardware,
Deering 6-String Tailpiece
Resonator:
Mahogany, with white binding
Trimmed in White
Straight Side Walls
Satin Finish
Tone:
Has the sweet sound of mahogany with less sustain for clear notes. Crisp highs and good bass response with less overtones than many banjos. Easy to play with clarity of note separation. Great for recording.
Tuned E,A,D,G,B,E for standard Guitar tuning, can also be tuned in other tunings
Dimensions:
Neck Width at the Nut: 1 ¾³
Scale Length Nut to Bridge: 26 ¼³
Resonator diameter: 13 7/8³
Overall Instrument Length: 38 ½³
Includes a Deering Hardshell Case
Warranty:
The trust and pride we share in our product gives us the confidence to grant every owner of a Deering banjo a Lifetime Warranty ensuring the quality of our materials and workmanship.
Features
Crisp trebles and short sustain
Easy to play, great for recording
Mulitple tuning options
Handsome design, select woods
Hardshell case included