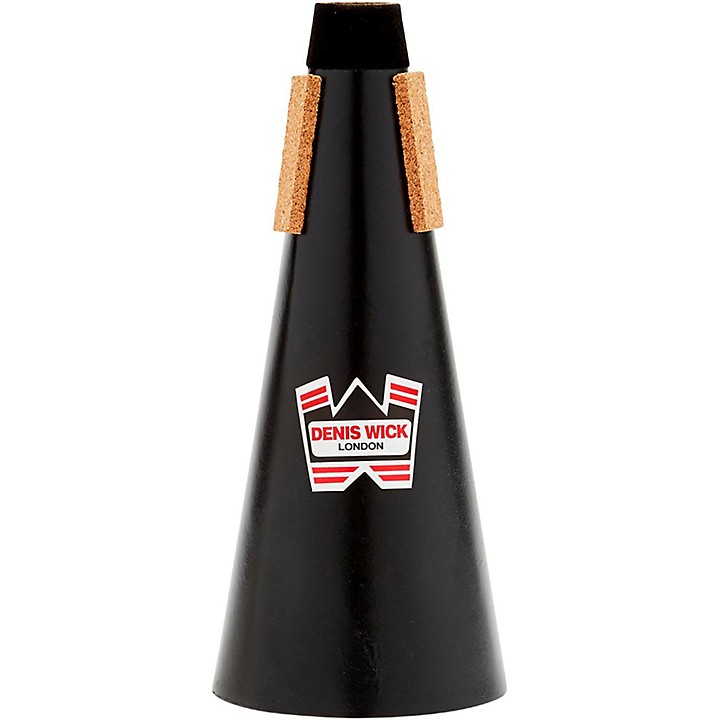 Inexpensive, great sounding mute for trumpet.
Using a high quality synthetic material, this mute is a perfect choice for the beginner student due to its durability and low price point. Impeccable tuning, superior sound production, and a very even feel in all registers make this mute a valuable tool for the beginner and professional alike.

This is a great-sounding and versatile synthetic mute for trumpet. The DW5571 Synthetic Trumpet Straight Mute is a sensational mute that features a seamless construction and a wooden base. It is great for orchestral and band use, but is also perfect for jazz, with a soft, mellow sound that is perfect for jazz ensemble work. It has generously-sized corks that compress down to fit all common bells.

To ensure a good fit, simply leave your Denis Wick mute in the bell overnight, and the cork will adapt to the curvature of your bell. It has the excellent intonation that is the hallmark of Denis Wick mutes, but provides a professional mute at a student price.
Features
Great tone with easy to control quiet notes and a sizzling forte sound
Superb intonation in all registers
Even response from high to low
Suitable for use in band and orchestral music
Beautiful sound for jazz
Sturdy construction with a wooden base that gives extra resonance
Real cork that flexes and takes on the shape of the instrument's bell
Protective bumper strip to prevent damage to bell
Greatly reduces sound output - suitable for home practice
Seamless construction