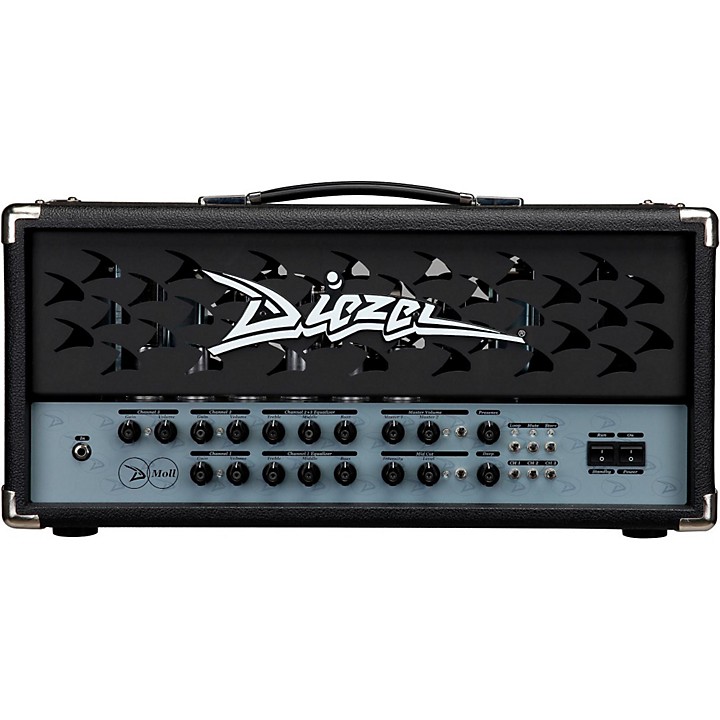 MIDI integration and massive tonal versatility in a head that has muscle to spare.
The Diezel D-Moll is a muscular 100-watt head that delivers everything from sparkling cleans to blistering dirty sounds from a quartet of JJ KT-77 output tubes and six 12AX7 preamp tubes. Features include three MIDI-switchable preamp sections ("clean, "crunch" and "insane"), a MIDI-controllable "Mid-Cut," MIDI-controlled FX loops (series and parallel) and much more.

The classic Diezel tone is present and accounted for. The D-MOLL reacts fast to the touch, but with a smooth, even touch. Its exceptional dynamic response lets your guitar broadcast its true personality with clarity and air. Diezel amps are revered for their expansive, œopen character that allows the player to explore a myriad of musical sounds and styles. Make no mistake"this is not a œfaceless amp"its simply capable of stunningly versatile performance.

The Clean channel (channel 1) is crystal clean for most of its range, but offers just a bit of compression and overdrive when the gain control is maxed. This is a huge, sparkly-yet-warm-sounding clean channel thats at home with jazz chords or squeezing out funk rhythms.

The Crunch channel (channel 2) has a natural, robust quality"think Texas blues to heavy rock rhythm to smooth medium- to high-gain solo sounds.

The Insane channel (channel 3) starts at a heavy saturated rhythm sound to fully-realized blazing lead tones. Nice and creamy when you roll back the guitars tone knob a little, but brutal when you crank it all the way up.

The D-Moll boasts a selectable Mid-Cut feature, sweeping from full mid bite to dark scoop. The Mid-Cut has a level control that allows the player to bump or reduce the volume as needed. The D-Moll's master section features dual Volume controls, a global Presence knob and a œDeep control, which offers to boost the low frequencies at 90 Hz.
Features
Power
Maximum wattage: 76W"100W; 100W
Tube or solid state: Tube/valve
Type: Head
Number of preamp tubes: 6
Preamp tube type: 12AX7/ECC83
Number of power tubes: 4
Power tube type: KT77
Power attenuation: No
Impedance: 4, 8, 16 ohms
Channels
Number of channels: 3
Footswitchable: Yes
Number of inputs: 1
Number of modes:
Controls
Channel 1: 3-band EQ; Volume; Gain
Channel 2: 3-band EQ; Volume; Gain
Channel 3: 3-band EQ; Volume; Gain
Channel 4: Not applicable
Master volume: Yes
Mid-shift: Yes
Depth: Yes
Resonance: No
Presence: Yes
Bright: Yes
Contour: No
Reverb: No
Voicing control: No
Boost: No
Other:
MIDI control: Yes
Footswitch included: No
Effects
Effects loop: Yes
Footswitchable: Yes
Reverb: No
Tremolo: No
Delay: No
Echo: No
Flanger: No
Phaser: No
Modulation: No
Chorus: No
Other:
Misc. Features
External speaker output: Yes
Headphone output: No
Direct output: Yes
AUX input: No
USB connectivity: No
Built-in tuner: No
Mute: Yes
Dimensions
Width: 29.25 in.
Height: 10.75 in.
Depth: 11 in.
Weight: 54 lbs.
Country of origin: Germany