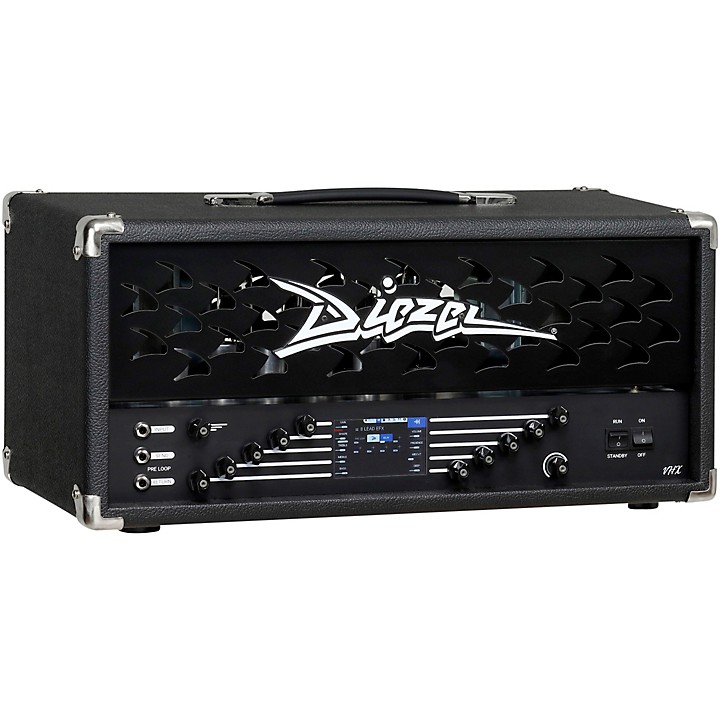 Loaded with effects and features all fully controllable.
From its name, it's apparent where the VHX derives inspiration. But the VH4 is just the beginning. Onboard you have access to all the most sought-after Diezel tones from their most popular amps, each one fully analog and all tube. However, the magic lies in the VHX's revolutionary DSP-based control. Arming the amp with all of the tools you need, this system includes studio-grade effects, instant access to user-customizable presets, and an IR-enabled DI for immaculate direct tones.
Add in the amp's three programmable, independent effects loops and a Cab-less Mode, and there's nothing you can't do with the VHX Diezel to evolve, they had to improve upon the best. And the VHX 100-watt head achieves that and more. No matter what kind of music you play or where you play it, the Diezel VHX is for you.
As with all Diezel amps, the VHX is handmade in Germany with the legendary Diezel tone.The heart and soul of the VHX are its all-tube, all-analog pre and power amp sections, which allow spot-on tonal recreations of the Diezel Herbert, Hagen, VH4 and Paul amplifiers, to name a few. So, whether you're looking for vintage amp feel or pulverizing grind, the VHX has it.
All of Diezel's most famous amp tones in one amp; VH4, Herbert, Hagen, Paul, Einstein and more. From in-depth tonal and signal chain customization and easy-access presets to a vast array of top-tier effects, the VHX is a complete rig in a box. And even with all that power onboard, its front-mounted high-resolution display makes it easy to find the perfect tone.
The VHX houses all of your favorite modulations, infinitely tweakable time-based effects,and more. With 10 of these studio-grade effects available, expanding it's capabilities on every update, this amp is all you need. And if you can't live without your favorite stomps, you also get two programmable post-preamp effects loops and a pre-loop for placing pedals out in front.
Specifications
Channels: 4

Power: 100 watts
Pre-Amp Tubes: 5 x 12AX7
Power-Amp Tubes: 4 x KT77
Speaker Outputs: 1 x 16 Ohms, 1 x 8 Ohms (2 x 16 Ohms) & 1 x 4 Ohms (2 x 8 Ohms)
Effect Loops: 1 switchable Pre Loop, 2 switchable FX Loop (Serial/Parallel)
Serial Loop Send
Return (2 x 1/4"" Jack)
Features
Full, onboard control via clear and easy-to-navigate screens
Access to thousands of parameters for fine-tuning your sound
Plenty of preset locations for instant recall of your favorite tones
MIDI and Diezel Columbus switcher compatible
Fast and intuitive workflow
Effects
Noise Gate
Compressor
Quad/Polyphonic Pitch Shifter
Delay, Chorus, Flanger, Phaser, Reverb, Tremolo
Graphic EQ
Each effect is fully tweakable and offers immense tonal shaping anywhere in the post-preamp signal chain.
100W all-tube amplifier head
Up To 99 presets
64 high-quality IR's already loaded (IR - can be used without a cabinet)