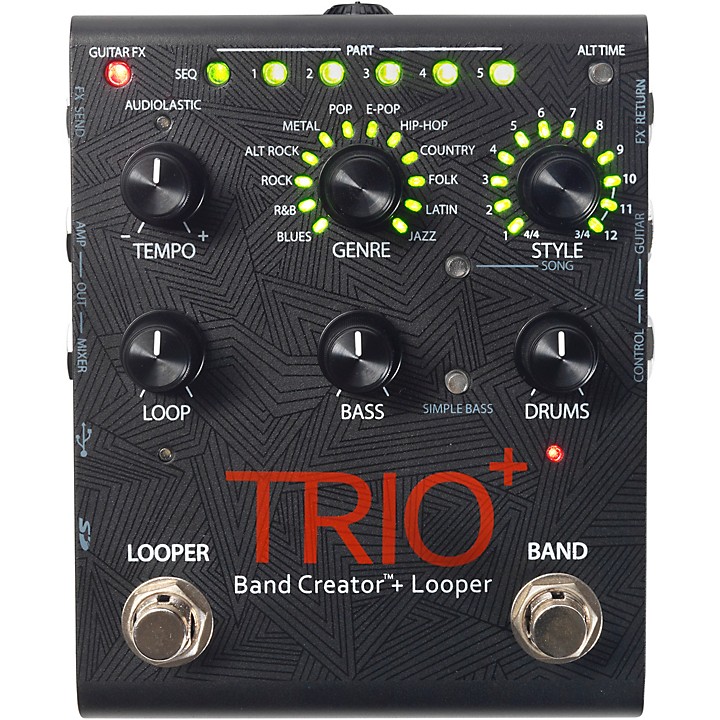 Get your groove on with this convenient Band Creator and looper pedal.
TRIO+ listens and learns the chords and rhythm you play and automatically creates drum and bass accompaniment. TRIO+ now also allows you to loop and custom sequence your looped guitar parts to create full songs on the fly.

Additional features include: Expanded Styles, FX send/return, SD card memory expansion and simplified bass.
Specifications
Controls
Tempo, Genre, Style, Loop, Bass, Drums, Headphone Volume
Backlit Buttons
Guitar FX, Seq, Part 1-5, Alt Time, Song, Simple Bass
FootswitchesLEDs
Genre types, Style 1–12, Audiolastic, Looper, Band
Jacks
Power, Control In, Guitar In, FX Return, FX Send, Amp Out, Mixer Out, Headphone
Other
Mini USB port, microSD card slot
Bit DepthSample RateSignal-to-Noise RatioMaximum Recording Time
230 seconds per song part—based on a minimum 50 BPM and 48 bars per part
USB TypeSD Card TypeSD Min/Max Storage SizePower Requirements
9V DC external power adapter
Power ConsumptionCurrent DrawDimensions (LxHxW)Weight1.46 lb. (622 g)Amp Output TypeAmp Output ImpedanceMixer Output TypeMixer Output ImpedanceFX Send Output TypeFX Send ImpedanceHeadphone Output Type
1/8" (3.5 mm) Stereo Mini Jack
Headphone Output ImpedanceGuitar Input TypeGuitar Input ImpedanceFX Return Input TypeFX Return ImpedanceControl Input Type
1/4" TRS (compatible with DigiTech FS3X)

Features
Automatic drum and bass creation
Multiple songs with Part Sequencing
Built-in synced looper
More genres, including metal
Better operation with existing pedals (included an FX loop)
Simplified bass parts
Quick creation of songs and removable SD card storage of songs