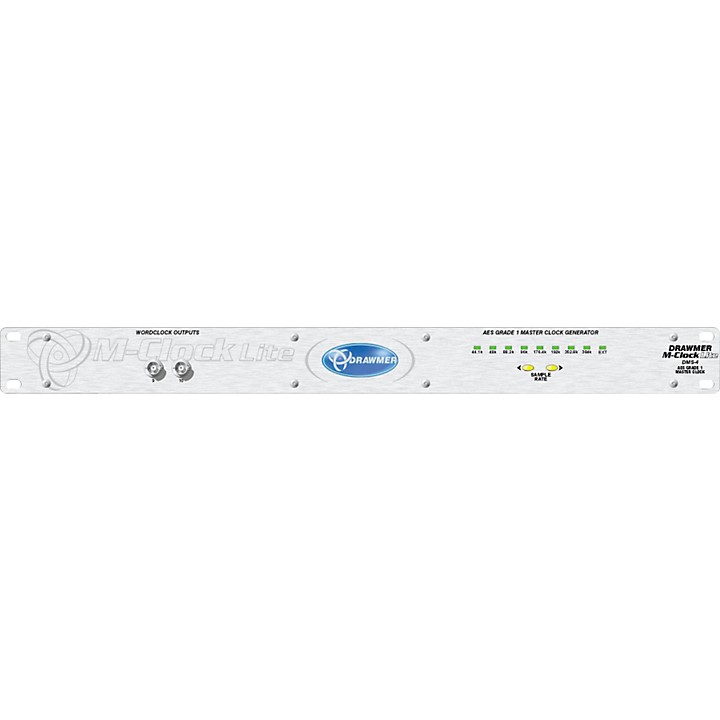 High-stability master clock with 10 word clock outputs.
The Drawmer M-Clock Lite: One of the essential requirements for high-quality digital recording is a first class, high-stability master clock generator. And it's pretty much a guarantee that you're going to adding more digital gear to your setup, which means you'll need to provide a master clock for more units. And as digital technology improves, clock rates are going to get higher. Rather than adding more clocks and daisy chaining to get the number of WC I/O you need, or paying for I/O you won't use, the Drawmer M-Clock Lite provides you with a simple, high-quality clock generator with 10 word clock outputs, and is forward compatible with high-speed clocks predicted for the future.

M-Clock Lite features an AES Grade 1 master clock generator, meaning that the generated clock has a long-term frequency accuracy of +/- 1ppm.
Features
M-Clock Lite offers clock rates of 44.1, 48, 88.2, 96, 176.4, 192, 352.8 and 384kHz at extremely low jitter.
An external clock input allows the user to select an alternative clock source without having to re-route clock cables.
10 Outputs are provided, 8 at the rear and 2 for easy access on the front panel.