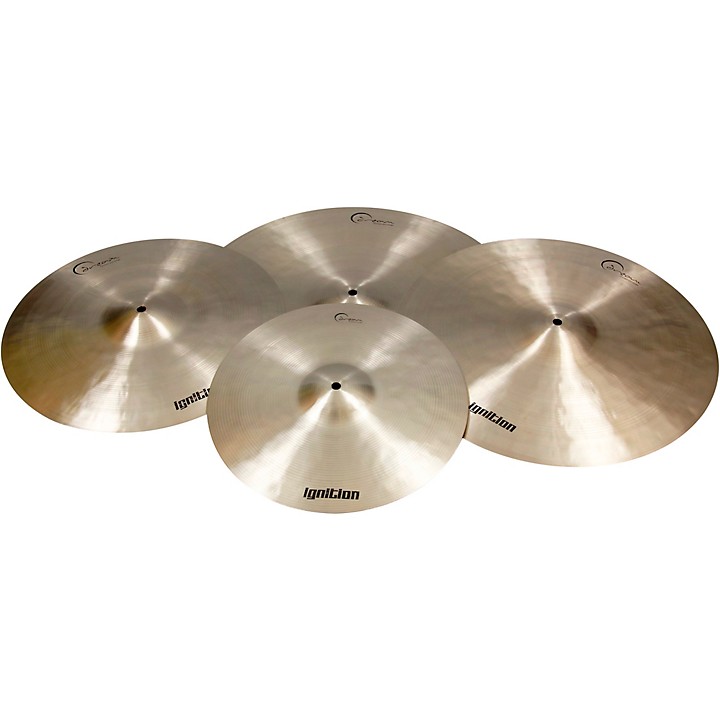 Cast bronze cymbal pack includes 14" hats, 16 and 18" crashes and 20" ride with carrying bag.
Dream Ignition series cymbals are hand-hammered from cast bronze discs, making for professional-quality cymbals at entry-level prices. This 4-piece Ignition pack doubles down on that value by combining 14" hi-hats, 16 and 18" crashes, 20" ride and a bag that fits all these cymbals, keeping them safe for a lifetime of use. Beginner drummers shouldn't settle for beginner sound—the best way to turn first-time drummers into lifetime drummers is to make sure they have the tools to grow. This is a rare starter pack to include cymbals made from premium-cast bronze, hammered by hand and lathed with extreme attention to detail. The Ignition series merges Bliss and Contact lathing styles from Dream's two highly popular lines. The result is versatile, professional sound for players on a budget.
Specifications
Sizes and Purpose
Quantity: 4
Type: Hi-hats/crash/ride
Sizes: 14"/16"/18"/20"
Construction
Material: Cast alloy
Hammering: Hand
Lathing: Full
Cymbal weight: Multiple
Other
Features
Cast bronze cymbal starter pack with hats, two crashes and ride
Crashes are 16 and 18" for a wider range of accents
Hand-hammered from premium B20 bronze
Mixes multiple lathing styles to form precise sound
Elegant natural finish shows off quality alloy
Comes with carrying bag that fits all included cymbals