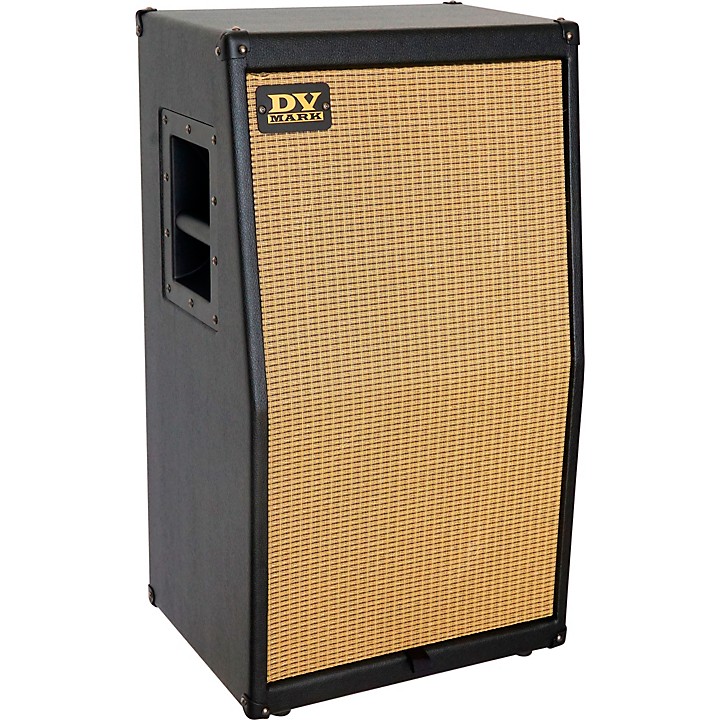 Get huge sound with a small footprint and lightweight construction.
The DV Gold 212V vertical speaker cabinet series features a gold grille and the new DV Mark DV NEO Speakers Gold.

If you like heavy and rock stuff and you need your overtones to properly come out, here are the cabinets for you. The models available under this series are the DV Gold 112 Small, the DV Gold 212, the DV Gold 412 and the DV Gold 212 V.

Slant-top / Split- stack design
The slant of the top speaker in the 2x12" vertical design allows to spread out more the sound than with the more common flat-front 2x12 cabs and to maintain the low-end you get from keeping the cabinet on the floor, but also keeps one speaker aimed at ear-level for onstage clarity of the mids and highs. The split-stack vertical design is perfect for stereo setup, allowing to have a real stereo panorama, utilizing one for each side.

DV NEO Speaker Gold
It's been designed to serve all hard rock and metal players, but this speaker is actually great for many other genres where you need to emphasize overtones, glorifying bass and mid frequencies to get a solid tone with a great headroom and dynamic. It also delivers an unmatched power compared to similar speakers on the market.

Amazing power handling / weight ratio
300 watts of power handling make this cab a force to be reckoned with, and its light weight (only 24.91 lb. / 11.3 Kg) makes it a practical option to use two of them for larger venues and in cases of stereo setup and where a larger spread of sound and volume is desired. Of course you can't go wrong using one for mono setup, small/medium stage, rehearsal.
Specifications
Power handling: 300W RMS
Speakers: 2x12" DV Neo Speaker Gold
Impedance: 8 ohms
Cabinet: open-back
Dimensions: 16.85" x 30.04" x 13.18" (42.8 x 76.3 x 33.5 cm)
Weight: 24.91 lb. (11.3 kg)