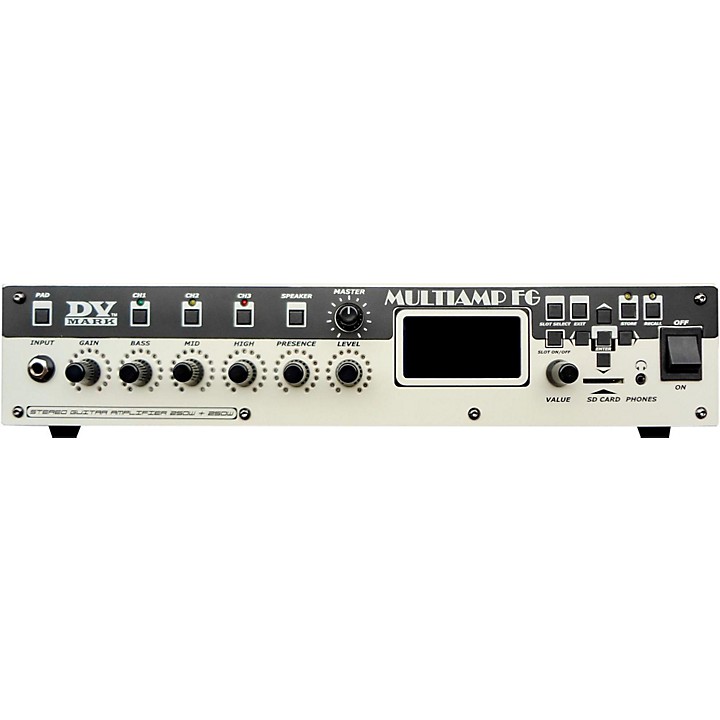 All the greatness of the original rack-mounted Multiamp, with lots of added flavor.
Frank Gambale and DV Mark worked together to develop an all-in-one amp that compliments his remarkable sound and technique. The incredible tones of Frank's signature amp called Ampli-tude are now added to the virtual amps, incredible effects, features and programmability of the Multiamp. Plus, there are 20 finely crafted presets by Frank built in also. The result is the special-edition Multiamp FG.

Frank Gambale amp tones, FG presets
The special-edition Multiamp FG (Frank Gambale signature) adds to Multiamp the incredible tone of Frank's signature amp and various amazing FG presets finely crafted by Frank.

Three channels, virtual amps, speaker cabs and microphones, studio effects, tuner
The Multiamp features everything a guitar player needs: three fully programmable channels (clean/crunch/lead), and a vast array of virtual amps, speaker cabs and microphones, studio effects, powerful stereo power amp and tuner.

Flexible and easy to use
It is great feat of technology, and a very user-friendly creative tool. Thanks to its cabinets and microphones emulation plus amp simulator and effects, it offers incredible flexibility. We've still managed to create a user-friendly interface which makes it very easy to use, and you can store all your favorite presets for stage and/or studio.

State-of-the-art design
Multiamp's state-of-the-art design allows for continual expansion through new firmware updates (available for free download at the DV Mark website) adding new items, new features and more and more useful and exciting tones and effects.

Powerful stereo amp
The Multiamp FG has a powerful 150+150W @ 8 ohm, 250W+250W @ 4 ohm or 500W@ 8 ohm (in bridge mode) power amp, that makes its amps and effects sound great at any volume!
Features
Power
Maximum wattage: 500W–600W; 500W
Tube or solid state: Solid state
Type: Head
Number of preamp tubes: Not applicable
Preamp tube type: Not applicable
Number of power tubes: Not applicable
Power tube type: Not applicable
Power attenuation: No
Impedance: 500W (bridge) 8 ohm; 250W+250W 4 ohm; 150W+150W 8 ohm
Channels
Number of channels: 3
Footswitchable: Yes
Number of inputs: 1
Controls
Three-band EQ, plus gain and volume
Master volume: Yes
Mid-shift: No
Resonance: No
Presence: Yes
Bright: No
Contour: No
Reverb: No
Voicing control: No
Boost: No
Other:
MIDI control: No
Footswitch included: No
Effects
Effects loop: Yes
Footswitchable: Yes
Reverb: No
Tremolo: No
Delay: Yes
Echo: No
Flanger: No
Phaser: No
Modulation: No
Chorus: No
Other: Virtual amps; mic & cab emulation
Misc. Features
External speaker output: Yes
Headphone output: Yes, 1/4"
Direct output: Yes
AUX input: No
USB connectivity: Yes
Built-in tuner: Yes
Dimensions
2U standard rack
Depth: 12.76"
Weight: 9.48 lb.