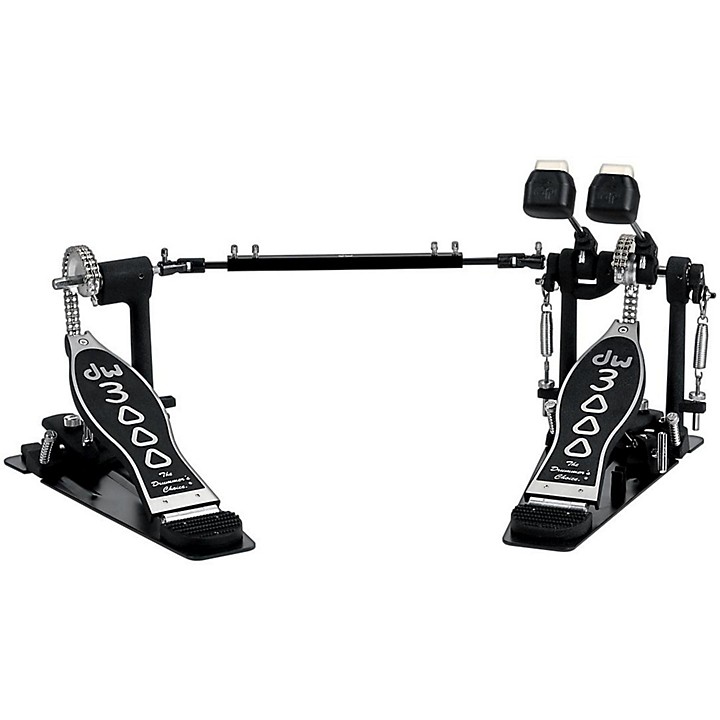 Single-post casting allows for pedals to be played independently or simultaneously.
This DWCP3002 Double Kick Drum Pedal is packed with features like dual-chain turbo drive, bearing spring rocker assembly, 101 2-way beater, and heavy-duty all metal construction, with a price tag that's in reach for more drummers. DW believes that well made pedals shouldn't just be for the pros, but that they should be for all drummers.

101 2-way beaters
Industry-standard reversible beaters, with high-impact plastic and felt surfaces to cover a range of musical applications.

Dual-chain turbo drives
Chain-and-sprocket design with offset cams for quick response.

Single-post casting
DW's double pedal design provides ease of movement between the pedal and hi-hat, which allows the pedals to be played independently or simultaneously.

Steel base plates
Provide a sturdy foundation and insures nonskid play on carpet and other flooring surfaces via adjustable spikes and Velcro.

Dual adjustable toe clamp
The dual adjustable toe clamp ensures the pedal and drum stay connected. Convenient clip with drum key also included.

Note that DW products are not available for further discounting online. For additional information, please call 866-226-2918.
Features
Dual-chain Turbo drives
Bearing spring rocker assembly
101 2-way beaters
Heavy-duty all metal construction
Single-post casting
Steel base plates
Includes drum key