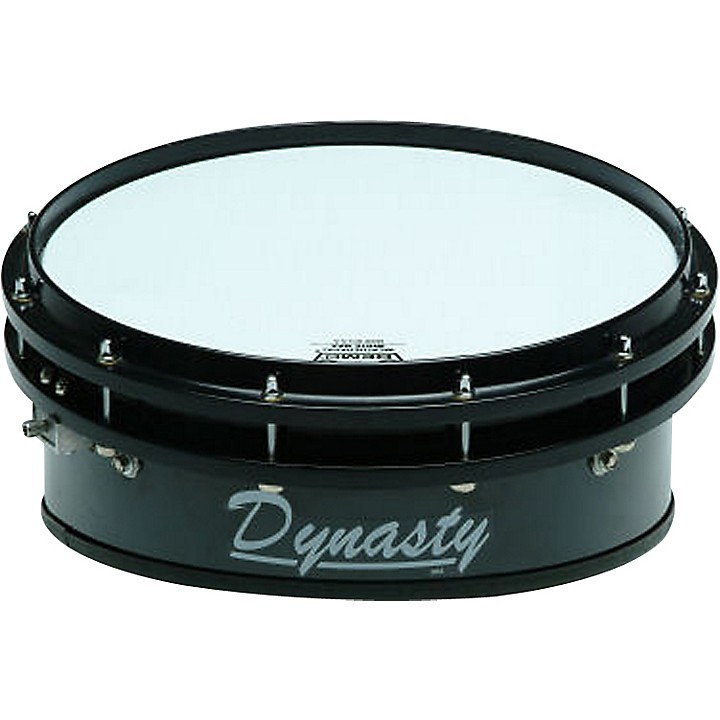 Dynasty Wedge Lite Series Marching Snare Drum
Excellent for elementary/middle school players
This drum is also excellent for elementary or middle school players and since this drum is 100% interchangeable with the DFP14 you can change from a 17 pound drum to a 10 pound drum for parades or indoor competitions.Excellent for Indoor Percussion
The Wedge Snare is outstanding for indoor marching percussion. It is crisp, fast and gutty, with the best balance for indoor activity.Excellent for Marching Band
Because there is a little less drum sound, this is the perfect drum for the snare line that is powerful, but has to balance a smaller wind ensemble. A great gutty sound that projects outdoors, but won't overpower a small band, this drum will be a plus for the smaller ensemble. Light Weight
Only 9 pounds. This drum will be comfortable for any age player and still produce a great sound with a kevlar based head. Durable
The hardware features a limited LIFETIME WARRANTY, so you can be assured this drum will perform right along with you.
Specifications
Custom Finishes: For a small charge, over 300 choices of finishes may be selected. Ask about custom finish on your Dynasty snare drum.
Hardware Warranty: Endurite Hardware carries a limited Lifetime Warranty
Indoor Marching Snare: A great drum to use for indoor marching ensemble: fast, light and full sounding.
Modular System: The batter/snare system is the heart of the Dynasty Modular Snare design. This drum quickly converts into a full shelled DFXT snare drum.
Projection: The unique cut of the wood shell and the batter/snare system combination cuts through with great quality snare sound.
Small Band Snare: This is a great drum that will help balance volume between a powerful snare section and a small band wind ensemble. Proven successful in outdoor bands.
Standard Finishes: Four standard finishes are available: white, black, red and blue. These are of the most durable drum finish available from Wilsonart.
Top Head Snares: The special Dynasty combination batter/snare system produces a great gutty snare drum sound.
Weight: At 9 pounds, this is the lightest snare drum on the market that will use a kevlar head.