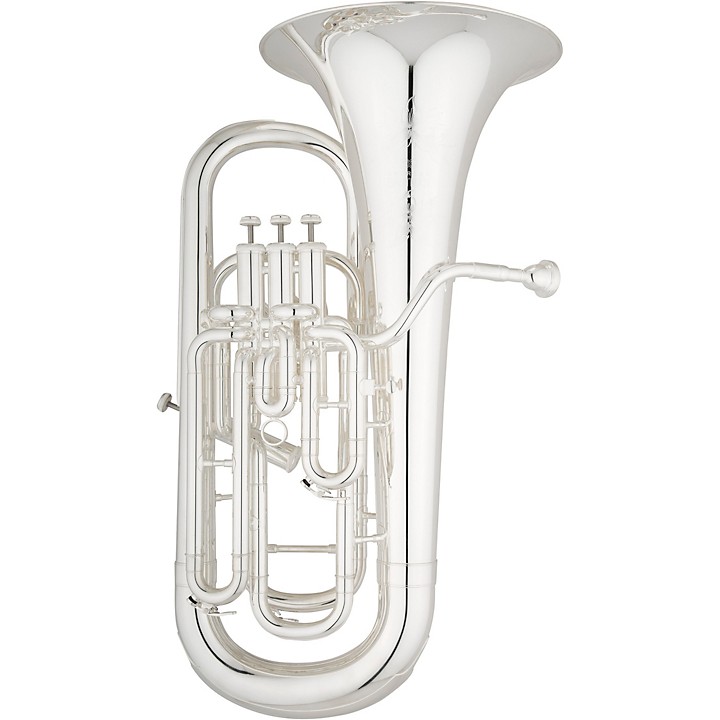 Pro-quality compensating euphonium with warm, dark tone.
Eastman's EEP526S professional euphonium offers musicians a truly exceptional instrument. The EEP526S features a 12" yellow brass bell and .610" rose brass leadpipe to produce a warm, harmonically complex tone. The fully compensating valve system provides accurate intonation, especially in the challenging low register. Four stainless steel pistons in a 3+1 configuration supply silky-smooth playability and securely guide air flow. A silver-plated finish adds subtle brightness to the EEP526S's tone.


Fully Compensating Valve System Delivers Impeccable Intonation
The EEP526S's fully compensating valve system solves the intonation issues that plague many euphoniums. This innovative technology enables precise intonation in every register, allowing the EEP526S to blend perfectly with accompanying instruments. Musicians will appreciate the EEP526S's ability to play beautifully in tune, even in the lowest notes.


12-Inch Yellow Brass Bell Produces Rich Tone
A 12" yellow brass bell gives the EEP526S a warm, harmonically rich tone with fast response. The large bell offers detailed sound at quieter dynamics and powerful projection when more volume is needed. Its upright orientation sends tone directly to the audience, enveloping listeners in lush euphonium sound. The EEP526S's classic tone works well for orchestral, chamber and solo playing.


Stainless Steel Pistons Provide Exceptional Playability
Four stainless steel pistons in a 3+1 configuration supply the EEP526S with silky-smooth playability and securely guide air flow. Eastman's meticulous craftsmanship and tight tolerances are evident in the euphonium's valves, which are fitted to exacting standards. The stainless steel pistons also resist corrosion, ensuring a lifetime of outstanding performance.


Additional Features
A .630 4th-valve bore reduces air resistance for less effort while playing. The EEP526S also includes a mouthpiece and durable case for transport and storage. The EEP526S professional euphonium delivers luxurious tone and playability for years to come.


Features
Key of Bb
12" yellow brass upright bell
Fully compensating system
Three-valve top-action assembly through a .610" bore
Separate 4th valve assembly through a .630" bore
Rose brass leadpipe
Stainless steel pistons
Exquisitely finished in bright silver plate
Includes silver-plated Eastman mouthpiece