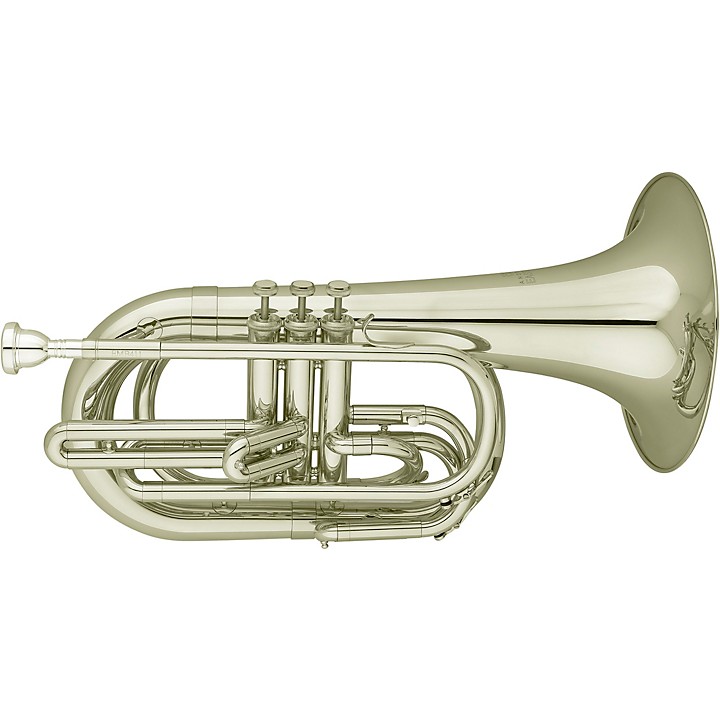 Marching baritone with included case.
Eastman's EMB411 Series Marching Bb Baritone supplies a robust tone and durable construction for outdoor performance. Featuring a yellow brass body with an 11" bell, the EMB411 produces a balanced, centered sound with impressive projection. Its large 0.571" bore gives resistance similar to a concert baritone for comfortable playability. Most importantly for marching bands, the EMB411 includes three stainless steel piston valves to resist corrosion and provide smooth action, even in adverse weather. The EMB411 comes ready to withstand the elements with a clear lacquer finish and stackable case.


Yellow Brass Body and 11-Inch Bell for Powerful Tone
Eastman crafted the EMB411 from yellow brass, a material renowned for its warm and balanced tone. The 11" bell diameter ensures this baritone provides an expressive sound across all registers. Together, the yellow brass body and 11" bell give the EMB411 a robust tone with enough power and focus for outdoor performance.


Large Bore and Stainless Steel Valves for Comfortable Playability
The EMB411 features a large 0.571" bore, which provides substantial breath support and resistance similar to a concert baritone. This makes extended periods of play more comfortable for marching band members. Its stainless steel piston valves also enhance playability by delivering smooth action and resisting corrosion, even when performing in rain or snow.


Durable Lacquer Finish and Stackable Case for Convenience
To protect against damage from outdoor use and frequent transport, Eastman finished the EMB411 in clear lacquer. This durable finish helps prevent scratches and dents while allowing the yellow brass to warm the tone. For convenient storage and transport, the EMB411 also includes a stackable hardshell case.


Premium Add-Ons to Get You Marching
In addition to the baritone itself, the EMB411 comes with some useful extras to get you performing as soon as possible. It includes a Shires S. Stadium Series mouthpiece, a trusted brand for marching brass. Eastman also provides a 2-year warranty to give you peace of mind about your investment.


Features
Key of Bb
.571" bore
11" yellow brass upright bell
Three pistons
Mouthpiece and case