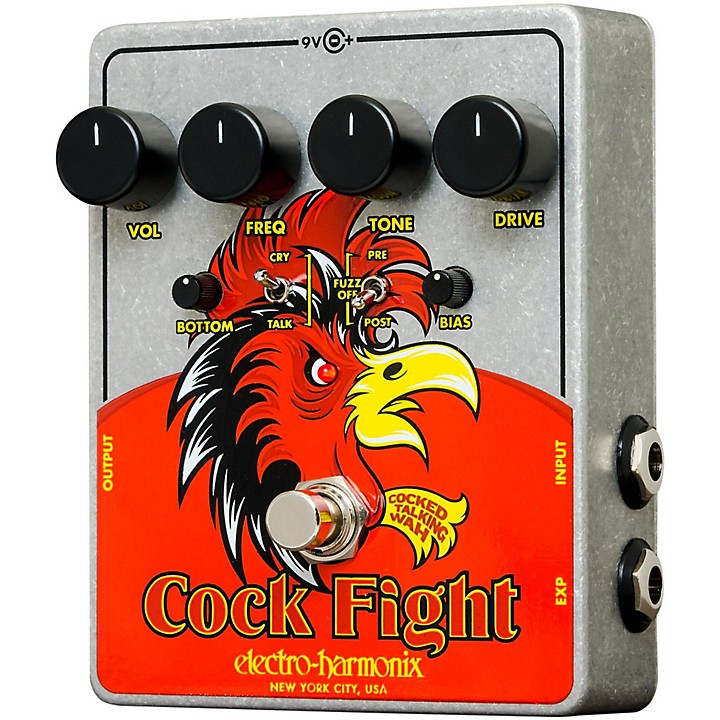 Dial in the perfect wah sound without the wah pedal.
Guitar gods have used the cocked wah sound to create monster riffs that have earned a permanent place in the rock lexicon. That required finding the sweet spot in their wah pedal's sweep. The Cock Fight lets you achieve that cool cocked wah sound without the wah pedal. Tune in the tone you want, and add the built-in distortion for more grind and growl, or switch to the Talking Wah mode for a stuck voice-box sound. If you plug in an expression pedal, you can sweep the Cock Fight for jaw dropping wah and the tone you want, with or without distortion!

Features
Great cocked wah and talking pedal sounds
Three pedals in one: crying wah, talking wah (with adjustable frequency) and classic fuzz
Use with or without the fuzz. Place the fuzz before the filter for a vintage vibe or after for a more modern sound
Adjustable bias control takes the fuzz from "normal" to a classic "dying battery" sound
EXP input so you can sweep the wah and talking pedal with an expression pedal
Includes an EHX 9.6DC-200 PSU, also works with 9V battery
Dimensions (W x L x H): 4 in. x 4.75 in. x 2.25 in.