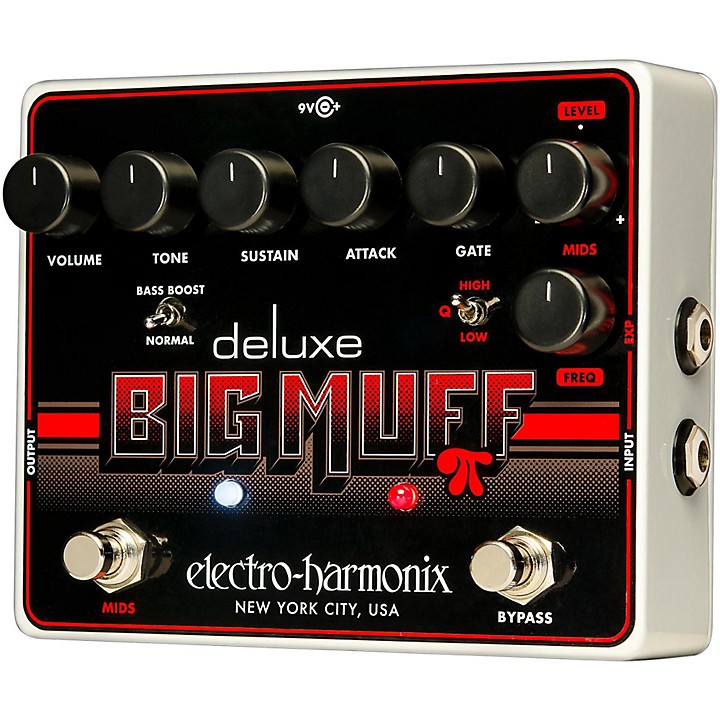 The original evolves.
Long revered for its sweet singing tone and violin-like sustain, the classic three-knob Big Muff Pi has helped define the sound of rock guitar for over 40 years. Now, EH has added some extras for those who crave more sound shaping control. Introducing the Deluxe Big Muff Pi. It delivers all the classic sounds of the original NYC Big Muff Pi, plus more.

The MIDS EQ allows tonal shaping of the Big Muff distortion like never seen before, the GATE function lends itself to playing the Big Muff in new ways providing blasts of fuzz when you play and silence when you don't, the ATTACK control adds definition to chords and riffs without getting in the way of the Big Muff's original tone, and BASS BOOST brings back some low end when TONE is turned up to its treble settings.
Specifications
Deluxe Big Muff Pi Sustain Guitar Effects
Features
Big Muff Knob Layout - familiar Sustain, Tone and Volume controls
MIDS EQ - fully parametric MIDS EQ includes variable frequency sweep, boost or cut level control and switchable Q or bandwidth amount
Footswitch for MIDS EQ -turn on the MIDS EQ circuit with the stomp of your foot
Gate - remove unwanted hum
Attack -preserves pick attack with an enhanced version of your dry signal
Bass Boost - switchable bass boost
Expression Pedal Input - sweep the frequency of the MIDS EQ with your foot
True Bypass